Taxon Page
Viola rotundifolia Michx.
Common names:
Early Yellow Violet, Round-leaved Violet
Synonyms:
Viola rotundifolia Michx., Fl. bor.-amer., ed. 1, 2: 150. 1803. TYPE: "Viola rotundifolia Mich.-Poir. Encycl. no. 9," Amériq: Sept:, [no date], [A.] Michaux [s. n.] (LECTOTYPE (designated by Ballard et al. 2020. Journal of the Botanical Research Institute of Texas 14(2): 226): P (MNHN-P-P04641469, internet image!)
Viola clandestina Pursh, Fl. Amer. sept. 1: 173. 1813

Description:
Apparently acaulescent rosulate perennials from somewhat thick rhizome, producing a prostrate non-rooting stem ("stolon") in summer terminating in a raceme of 1–3 cleistogamous fruits, ≤ 11 cm tall; foliage and peduncles mostly gray-green, upper surface of leaf blades dark green, petioles, chasmogamous peduncles and summer stem usually red-spotted, glabrous or petioles hirsute and/or upper surface of leaf blades sparsely appressed-pubescent; stipules free, entire; leaves spreading or more often prostrate on the substrate in life, especially during fruit, leaf blades undivided, largest ≤ 140 × 108 mm, narrowly ovate to suborbicular, base narrowly cordate, inner edge of lobes often meeting, margins rounded-crenate, eciliate, apex obtuse to rounded; chasmogamous flower ≤ 14 mm; calyx glabrous, eciliate or ciliate; lowest sepals narrowly oblong to ovate-lanceolate, obtuse to truncate; auricles prominent, entire or slightly emarginate, not elongating in fruit; corolla wholly yellow; spur short-globose; lateral petals densely bearded with narrowly linear hairs, spurred petal glabrous; chasmogamous capsule green; cleistogamous flowers produced after chasmogamous, often borne on prostrate summer stem; cleistogamous capsule 5–8 mm, green drying tan with purple spots or blotches, glabrous; seeds 1.8–2.0 × 1.0–1.3 mm, ivory to light orange-brown, unspotted; 2n=12.
Similar species:
In vegetative state, a number of species, but distinctive in flower or fruit
Ecology:
Rich mesic and cove forests, often in somewhat acidic rocky soils or heavily organic substrates.
Distribution:
Appalachian Mountain highlands, extending northeastward, QC and ME to e. OH, south to w. SC, n. GA, and e. TN; disjunct in c. Upper Peninsula of MI.
Rarity:
State listed in DE and RI.
Phenology:
Chasmogamous flower March–May, chasmogamous fruit April–June, cleistogamous fruit July–September.
Affinities:
This species belongs to the Yellow Violet lineage, sect. Chamaemelanium Ging., in the monotypic Rotundifoliae species group. Although it somewhat resembles V. orbiculata Geyer ex A.Gray and V. sempervirens Greene morphologically and has traditionally been included in the Orbiculares species group, it does not consistently form a clade with those species or exhibit close relationships with others in molecular phylogenies.
Hybrids:
None.
Comments:
In his brief protologue Michaux mentions "Hab. in excelsis montibus Carolinae." He cited no specimens or types. According to Stafleu and Cowan (1981), Michaux's North American herbarium is at P as a separate historical collection, with some duplicates in Herb. Richard. The herbarium database at P has images and data for three sheets presumed to be original material, all matching the protologue information. Sheet P04641469 bears a representative plant with the prostrate summer stem and a three-fruited cyme; Ballard et al. (2020) selected this as the lectotype. Two other syntype sheets are "Viola rotundifolia," Amériq: Sept: (Mr LeConte [s. n.]) ["Herbarium Richard" written in different hand and ink] P (MNHN-P-P04641484, internet image!); and "Viola rotundifolia Michaux," fl. luteus, in altis montib. Carol., [A. Michaux s. n.?] ["Herbarium Richard" written in different hand and ink] P (MNHN-P-P04641488, internet image!). The latter sheet has three species, with the upper right plant representing V. rotundifolia.
Brainerd (1921b), Brainerd Baird (1942), Fernald (1950), Henry (1953a), Alexander (1963), Russell (1965), Scoggan (1978), Strausbaugh and Core (1978), Gleason and Cronquist (1991), Ballard (2000), McKinney and Russell (2002), Haines et al. (2011), Weakley et al. (2012), and Little and McKinney (2015) have recognized this distinctive taxon at species rank. The species is unmistakable especially in chasmogamous flower by its acaulescent habit and yellow corolla, but it is sometimes misidentified or overlooked as other species in vegetative or cleistogamous fruiting state; differences are noted in "Similar species" above. It was first documented by W. A. MacKinnon in 2019 from Alger County in Michigan's Upper Peninsula–a significant disjunction for this primarily Appalachian Mountain violet (Reznicek et al. 2022). It should be sought in intervening areas.
Literature Cited:
Alexander, E. J. 1963. Violaceae. In Gleason, H. A., The new Britton and Brown illustrated flora of the northeastern United States and adjacent Canada. Hafner Publishing Co., Inc., New York, NY. 552-567.
Ballard Jr., H. E. 2000. Violaceae. In Rhoads, A. (ed.). Flora of Pennsylvania. University of Pennsylvania Press, Philadelphia, PA. 700-710.
Brainerd, E. 1921b. Violets of North America. Vermont Agricultural Experiment Station Bulletin 224: 1–172.
Brainerd Baird, V. 1942. Wild violets of North America. University of California Press, Berkeley, CA.
Fernald, M. L. 1950. Violaceae. In Gray's Manual of Botany, 8th ed. American Book Company, New York, NY. 1022-1042.
Gleason, H. A., and A. Cronquist. 1991. Violaceae. In Manual of vascular plants of northeastern United States and adjacent Canada, 2nd ed. New York Botanical Garden, Bronx, NY. 157-163.
Haines, A., E. Farnsworth, and G. Morrison. 2011. Violaceae. In Flora Novae Angliae. Yale University Press, New Haven, CT. 873-886.
Henry, L. K. 1953a. The Violaceae in western Pennsylvania. Castanea 18(2): 37-59.
Little, R. J., and L. E. McKinney. 2015. Violaceae. In Flora of North America: Cucurbitaceae to Droseraceae, 106. Oxford University Press, New York, NY.
McKinney, L. E., and N. H. Russell. 2002. Violaceae of the southeastern United States. Castanea 67: 369–379.
Reznicek, A. A., E. G. Voss, & B. S. Walters. 2022. University of Michigan. Accessed on October 9, 2022. https://michiganflora.net/species.aspx?id=2960.
Russell, N. H. 1965. Violets (Viola) of the central and eastern United States: An introductory survey. Sida 2: 1-113
Scoggan, H. J. 1978. Violaceae. In Flora of Canada, Part 3–Dicotyledoneae (Saururaceae to Violaceae). National Museums of Canada. Ottawa, Canada. 1103-1115.
Stafleu, F. A., & R. S. Cowan. 1981. Taxonomic literature: a selective guide to botanical publications and collections with dates, commentaries and types, 2nd ed., vol. 3: Lh-O. Bohn, Scheltema & Holkema, Utrecht, The Netherlands. https://www.sil.si.edu/DigitalCollections/tl-2/.
Strausbaugh, P. D., and E. L. Core. 1978. Violaceae. In Flora of West Virginia, 2nd ed. Seneca Books, Inc., Morgantown, WV. 644-658.
Weakley, A. S., J. C. Ludwig, and J. F. Townsend. 2012. Violaceae. In Flora of Virginia. BRIT Press, Fort Worth, TX. 963-975.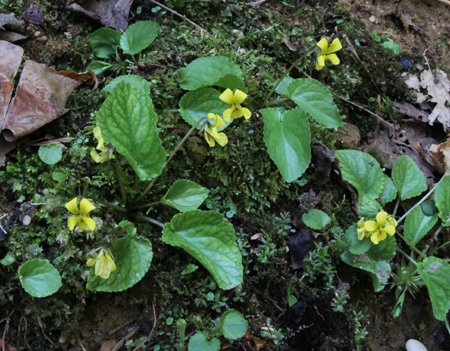 Chasmogamous flowering habit by Andrew Gibson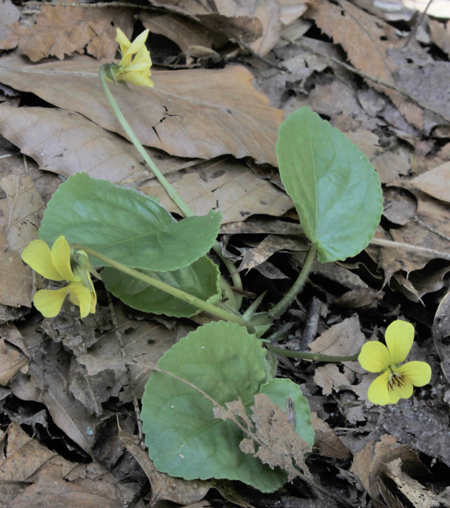 Chasmogamous flowering habit by Andrew Gibson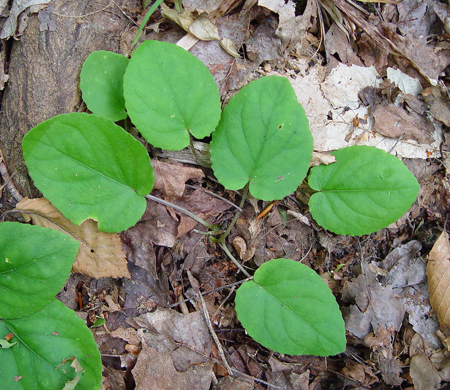 Leaves during cleistogamous fruit by Arthur Haines, "Go Botany" website, Native Plant Trust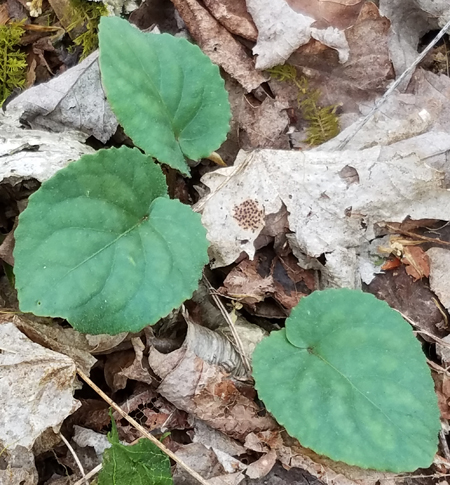 Leaves during chasmogamous fruit by Harvey Ballard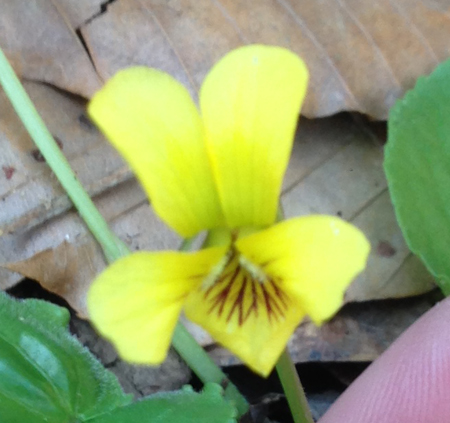 Chasmogamous flower front view by Andrew Gibson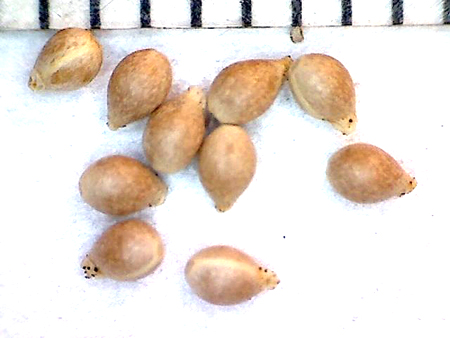 Seeds from herbarium specimen: CT, Litchfield, Washington, 20 Jul 1919, Evans s.n. (YU053115)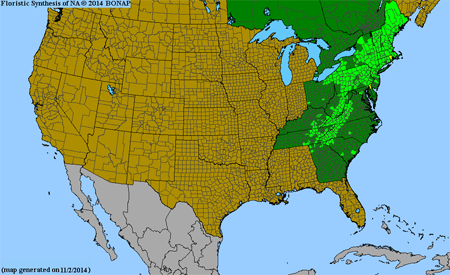 Map by the Biota of North America Program