Southeast Ohio: Landscapes, History, and Culture
---
Here are some scenes from southeast Ohio I've photographed, between 2004 and 2020. The good, the bad, and the ugly. Mostly in chronological order. I did not take that many photos in the beginning.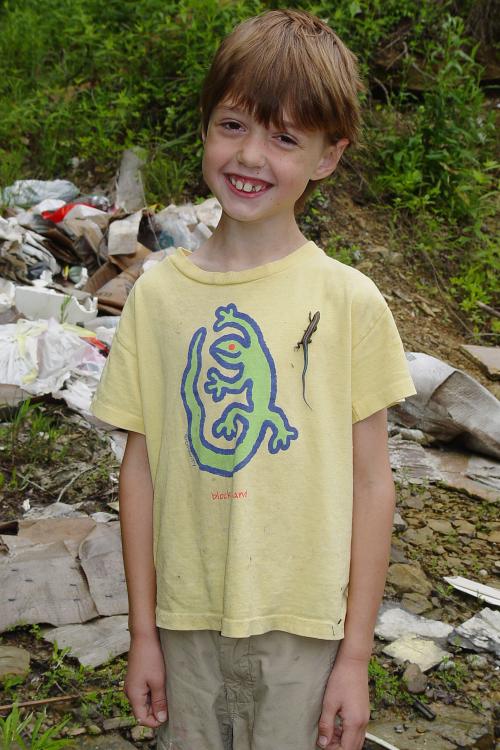 Ryan and a Five-lined Skink, May 2004. The skink was found in the trash pile in the background. After this, I'm going to mostly avoid photos that include people or reptiles / amphibians.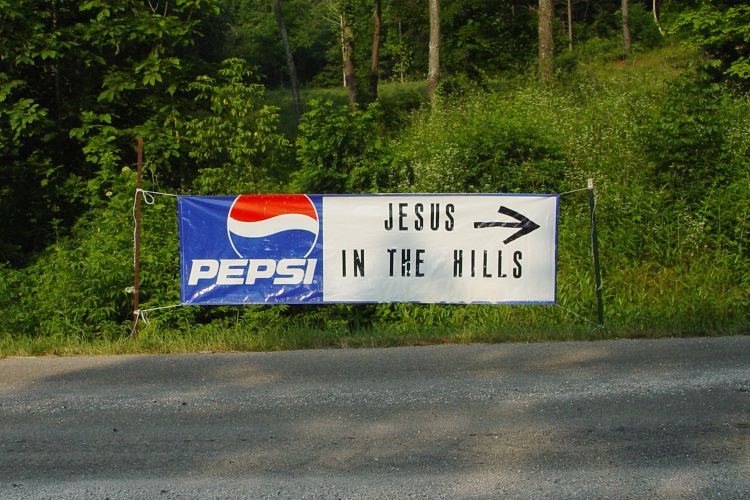 Brought to you by Pepsi. June 2005.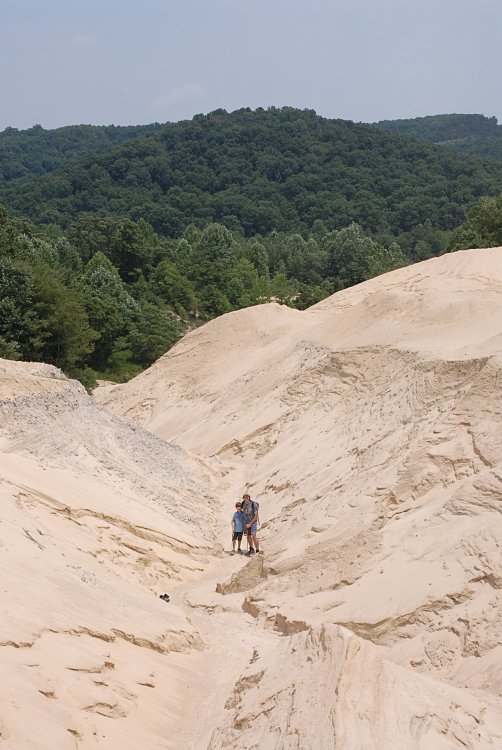 A photograph of a giant sand pile, including Ryan and me (photo by Jason Folt). Northeastern Pike County and Northwestern Jackson County are very favorable for sand mining. I had a student in on of my classes who explained this sand was used in things like swimming pool filters. His family owned a sand mine in Jackson County. The bare sand you see in the photo has been recently processed. Unfortunately, this unique habitat is slowly being destroyed by the mining. Photographed in July 2005.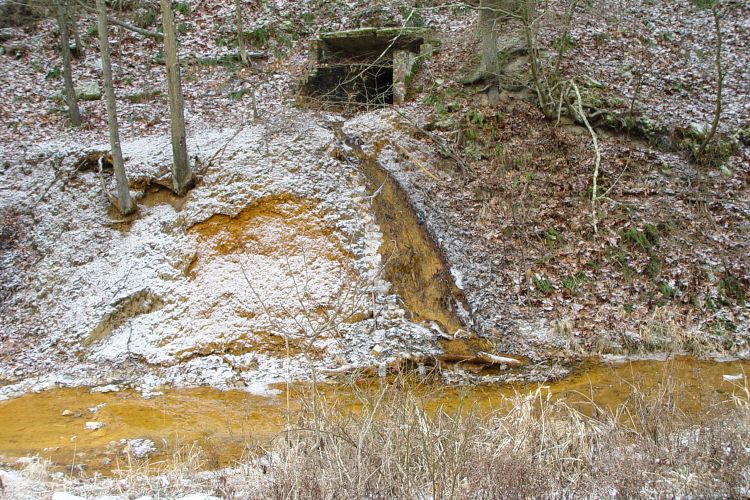 Some acid mine drainage flowing out of an old mine. This is in the headwaters of Hewett Fork in Athens County. Photographed in December 2005, with a dusting of snow.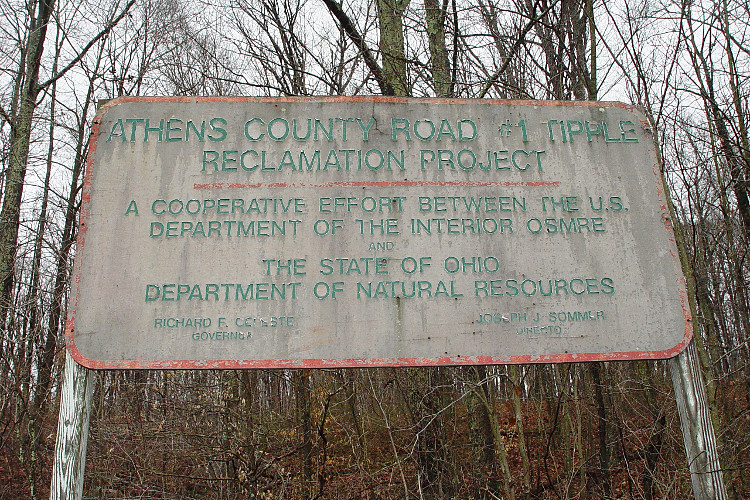 For some reason, I found this abandoned sign amusing. Richard Celeste was Governor of Ohio from 1983 until 1991. I think some trees and brush grew up in front of the sign and then everybody forgot about it. The location of this sign is rather close to the acid mine drainage in the previous photo. Photographed in March 2006. Coal mining has been very important in this region. The names of many of the towns in the area reflect this mining history: Ironton, Bessemer, Oreton, Carbondale, Carbon Hill, Coalton... This historical marker is sobering: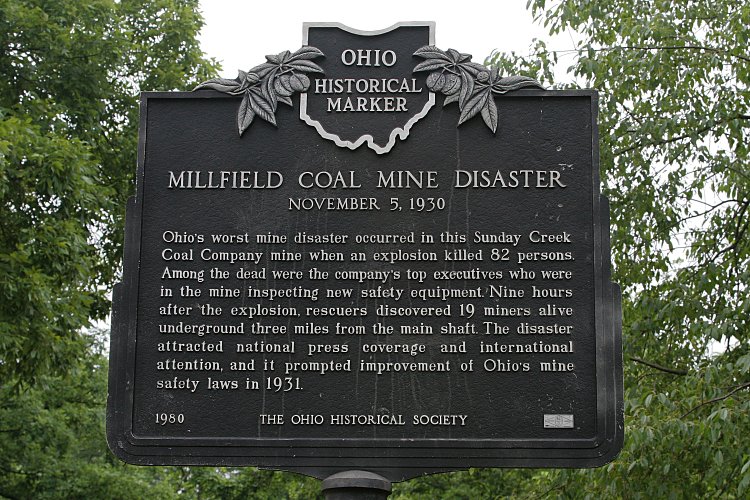 Photographed July 2006. Coal mining remains an important industry in parts of Appalachia. It is still mined in large quantities, but due to mechanization the number of people employed by the industry is only a few percent of what it once was.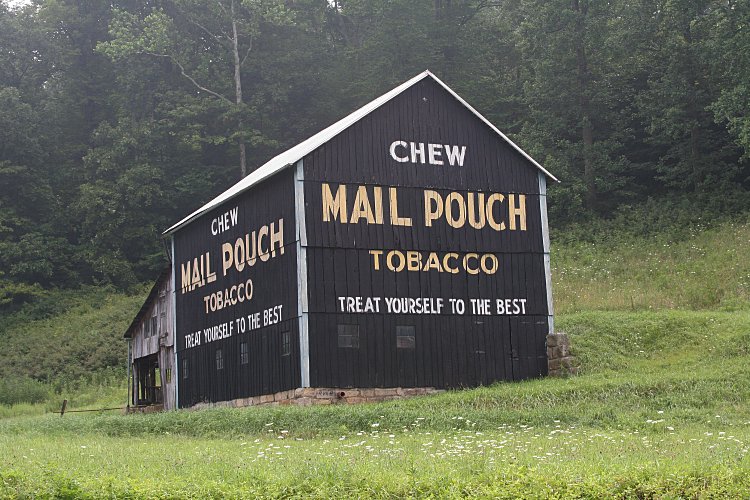 A cool barn, July 2006. According to Wikipedia, there were 20,000 Mail Pouch Tobacco barns in their heyday, the 1960s... This one had obviously been repainted recently.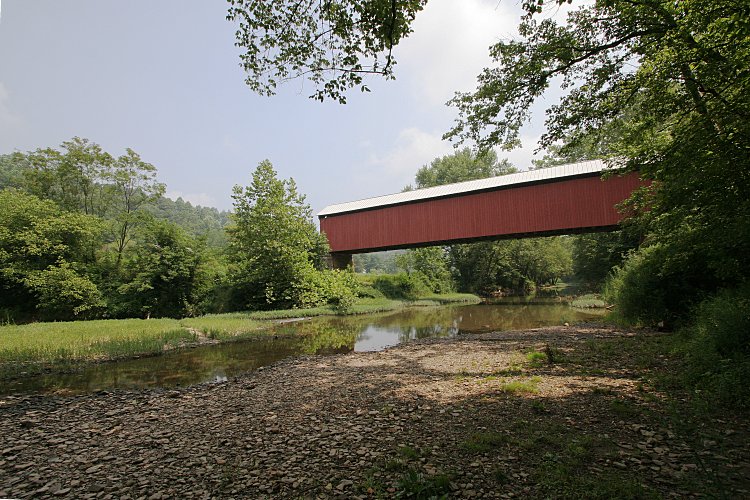 The Hune Covered Bridge, photographed on July 30, 2006.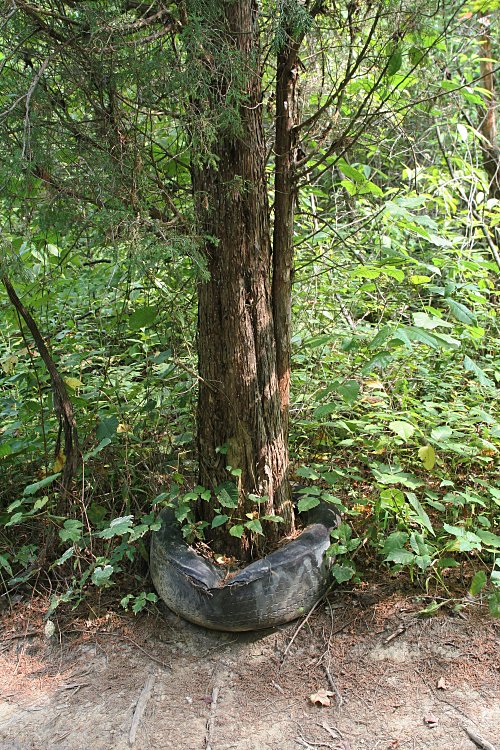 I thought it was pretty funny how this cedar tree grew up through a discarded tire. Tires are not biodegradable.... I have actually seen two examples of this. August 2006.

Daffodils are often all that remains of old homesteads around here. It's interesting to speculate about the history of these places. March 2007.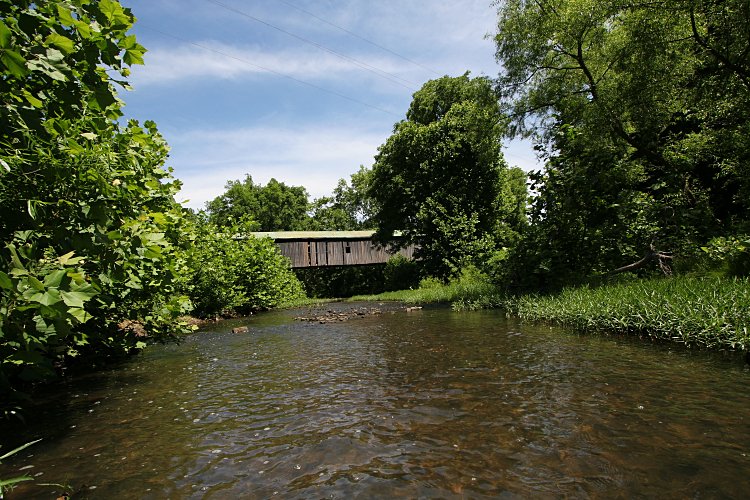 The Otway Covered Bridge. June 2007.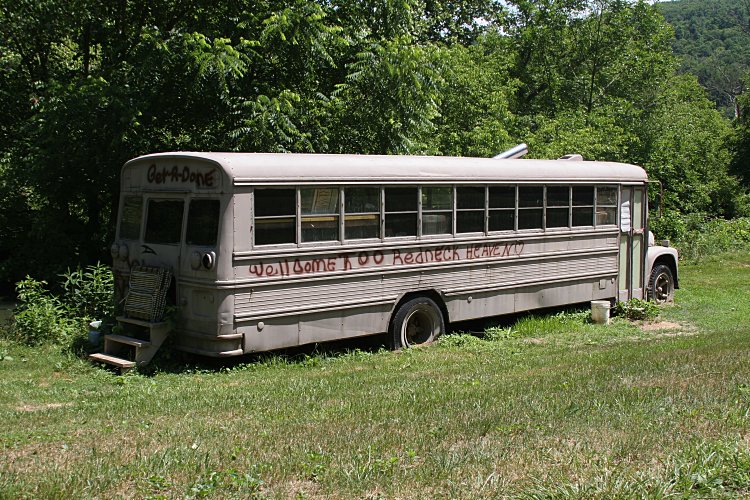 Some amusing graffiti. June 2007.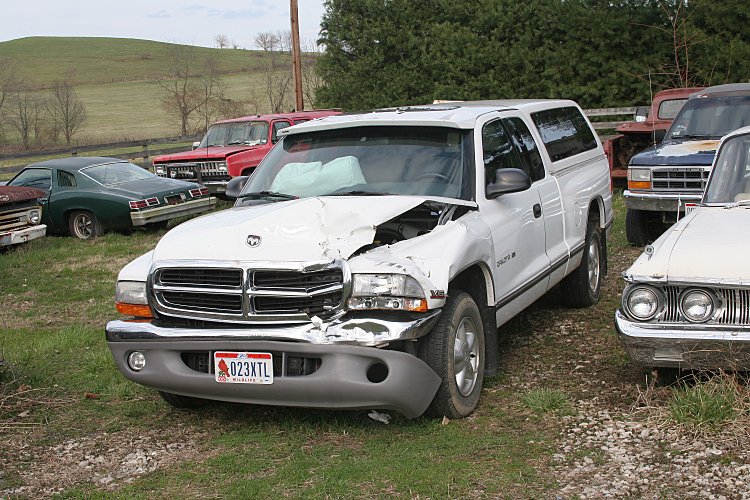 My truck and I had bad day on March 29, 2008. A careless driver pulled out right in front of me while I was driving down the highway... Airbags are my new best friend. The photo shows my truck a few days later, in the yard it was towed to (in these parts, the wrecking yard really is somebody's yard). It was declared a total loss. Fortunately, nobody was injured significantly. And I was also lucky to have Jason Folt following behind me so I had a ride home.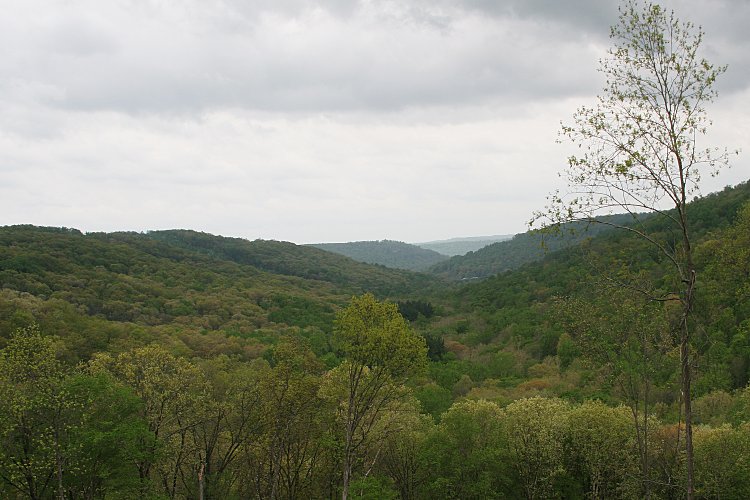 Scenery. May 2008.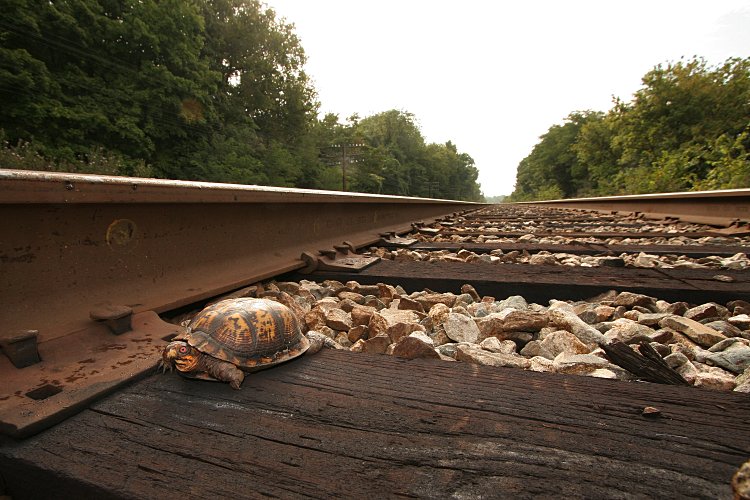 A Box Turtle, as found, trapped between the rails. OK, so I did include a reptile. I thought this was a great example of how "little" things that people do can really cause problems for wild animals. It is not unusual to find dead turtles for this reason when walking the rails. September 2008.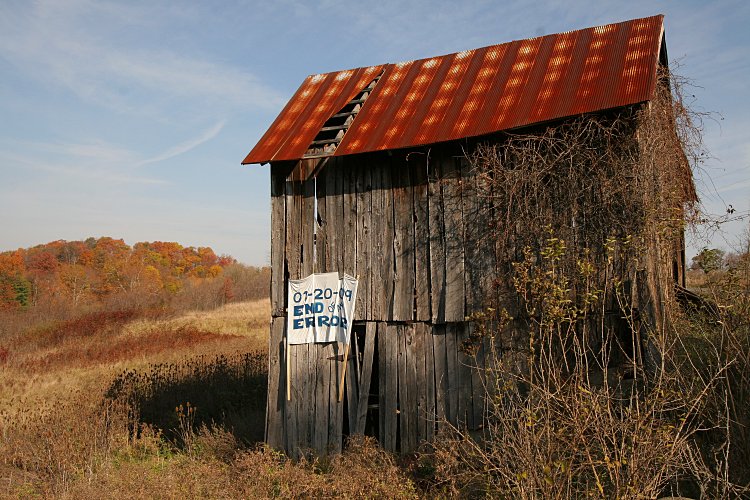 "01-20-09 END OF AN ERROR" -- Some anti-Bush sentiment in Appalachia. Photographed on November 1, 2008. Here I'll share a little history of iron mining in this area, which I find interesting. From about 1830 until around 1900, the Hanging Rock Iron Region (a 100-mile stretch in southeastern Ohio and northern KY) produced the majority of the iron in the U.S. It is said that the raw materials for the famous Civil War "ironclads" the Monitor and the Merrimack came from this region. During this time there was a large influx of people and nearly complete deforestation -- the iron furnaces were fueled with charcoal. Eventually, superior iron ore deposits were discovered in the Great Lakes region and the iron industry in southeast Ohio shut down. The last furnace "blew out" in 1916. Many of the old iron furnaces are still around. Here's one: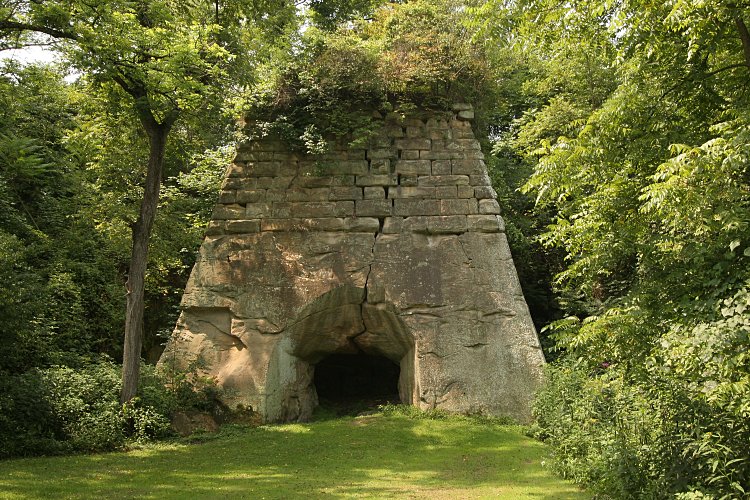 The Madison Furnace, photographed in August 2009. Looks like good habitat for copperheads and fence lizards to me... Another interest thing is the old cemeteries in the area: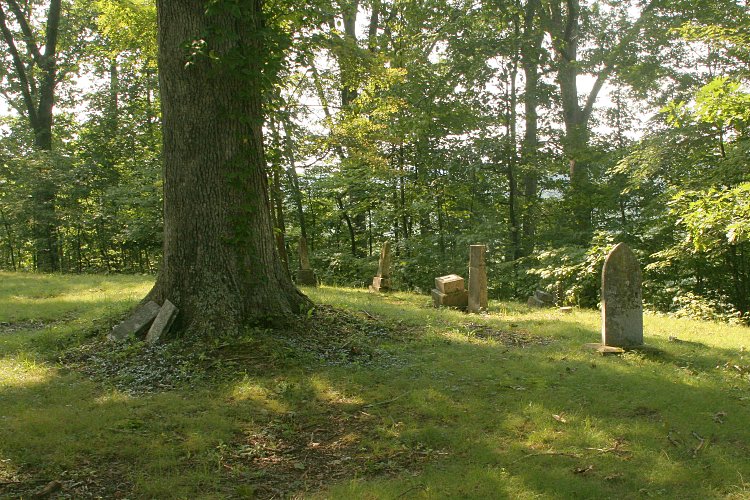 This one is on a ridgetop, above one of the abandoned furnaces. All of the graves are over 100 years old. Photographed August 2009. It looks like somebody comes through with a mower every once in a while. Some that are indicated on topo maps have been completely reclaimed by mother nature, as far as I can tell. The late afternoon sun hit this tombstone just right so that the inscription could be easily read: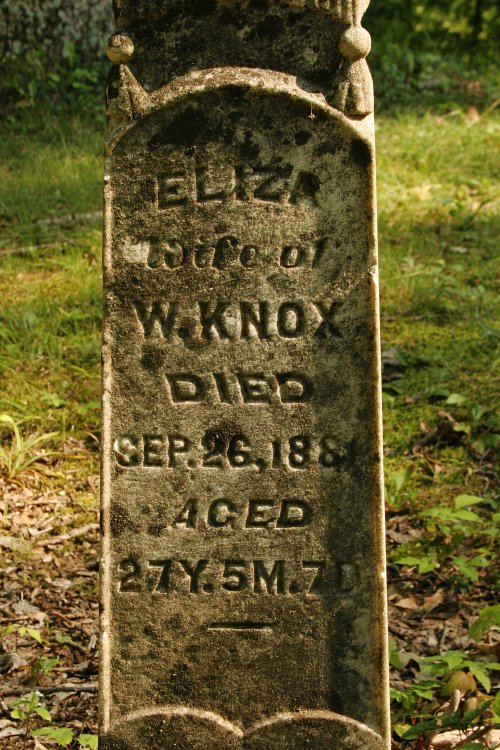 "ELIZA Wife of W.KNOX DIED SEP.26,1881 AGED 27Y.5M.7D"
There are also plenty of other interesting abandoned things around here, e.g. homesteads, railroad grades, and railroad tunnels. This part of the country is now relatively poor and the lack of economic opportunity remains a challenge: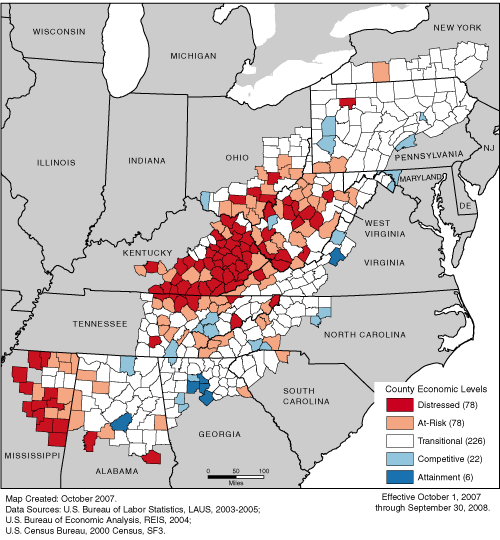 Source: Appalachian Regional Commission. The poor economy does have a nice upside in that we have definitely not experienced the population boom over the past 100 years that many areas of the U.S. have. Having lived in southern California and the North Carolina piedmont, I can appreciate this! Roger Conant's autobiography (A Field Guide to the Life and Times of Roger Conant, Canyonlands Publishing Group, 1997, ISBN 0-9657446-0-4) is a great read if you ever get the chance. In it he recounts his time in the early 1930s when he was surveying the reptiles of Ohio. He notes that by this time many of southeastern Ohio's forests had already largely recovered. He also relates this amusing anecdote:
Once when we had stopped at McArthur, the tiny county seat of Vinton County, someone asked, "Doesn't this town every grow? It always looks the same. Aren't any babies every born here?" To that the prompt response was, "Ever' time one's born some son-of-a-bitch has to leave town."
Vinton County is one county west of Athens County, where I reside, and is a frequent destination in my searches for amphibians and reptiles. The really funny thing is that I doubt McArthur has changed much since Conant was there in the 1930s. This map shows how consistent (and low!) the Vinton County population as been: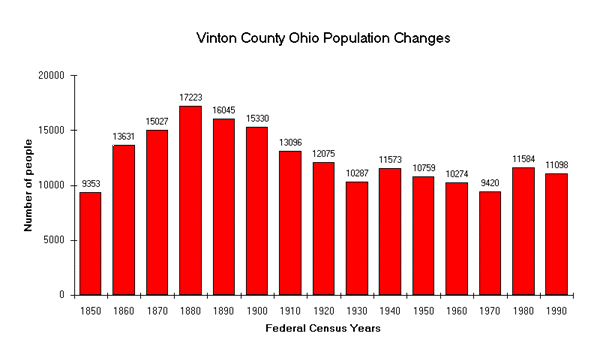 Source: http://www.rootsweb.ancestry.com/~ohvinton/vinton.htm Coal mining has left behind several lasting negative impacts. Acid mine drainage has left many streams sterile. Piles of coal refuse remain where essentially nothing will grow. These problems are only somewhat fixable and then at great expense. Modern mining operations still affect the landscape: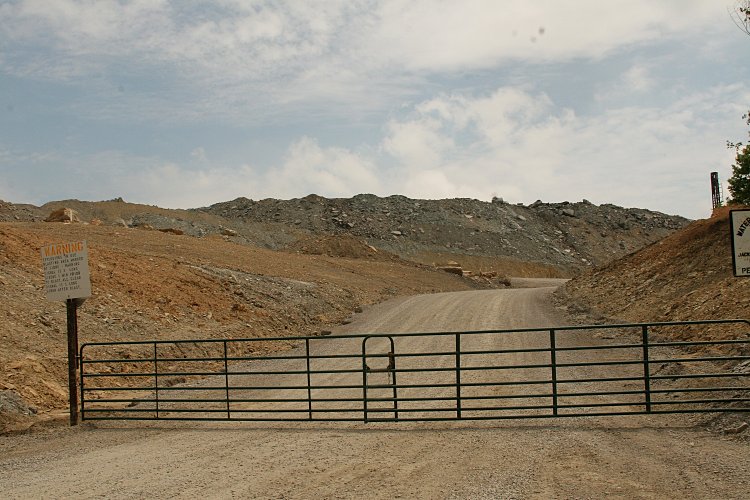 I believe this one is a limestone mine. Photographed May 2009. Now that is some serious habitat destruction. It is sobering to see the extent of these operations using Google Earth. I personally question the morality of such activities. I am fortunate that today southeast Ohio does have quite a lot of public land that is protected (at varying levels) from development and exploitation. I will never run out of new places that I want to explore. Since most of the public land tends to be land nobody else wanted, the majority of it is rugged hill country. There is a distinct lack of protection for larger rivers, floodplains, and wetlands. I will wrap up the historical diversion with another Conant quote: "Southeastern Ohio was unquestionably our favorite collecting area."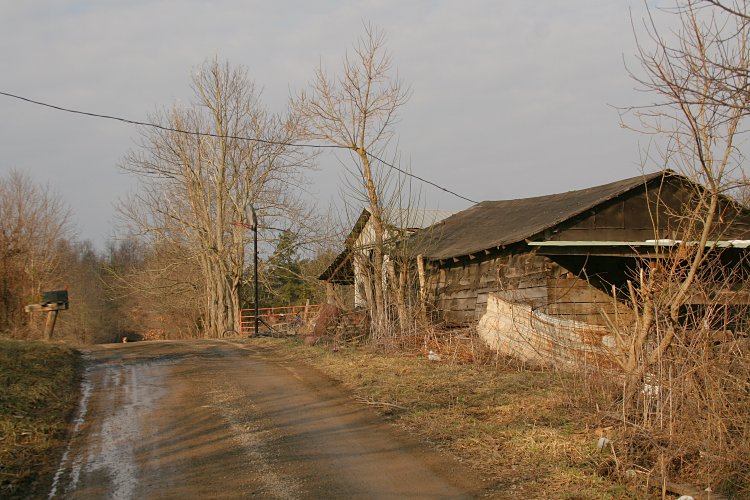 A simple rural dwelling with a basketball hoop in the dirt road. March 2010.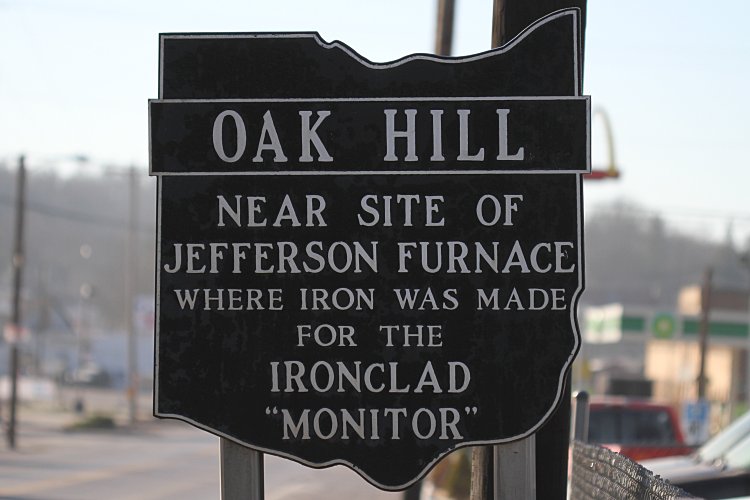 Always interesting to contemplate the past. December 2011.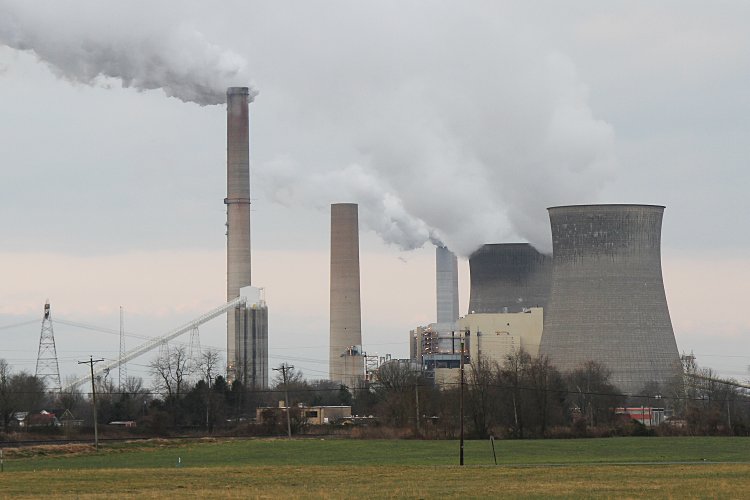 Coal, Keeping the Lights On. I drove by the Gavin Power Plant, on the Ohio River in southeast Ohio, on March 13, 2012. It's a 2.6-Gigawatt coal-fired beast, one of the largest in the country. The winds were blowing towards West Virginia today... A few years ago, AEP bought out the entire town of Cheshire, OH because of pollution problems from this plant.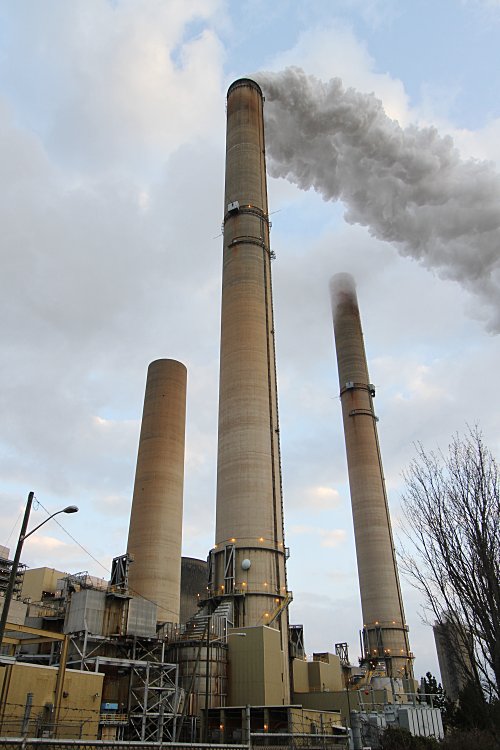 The smokestacks of the Gavin Power Plant.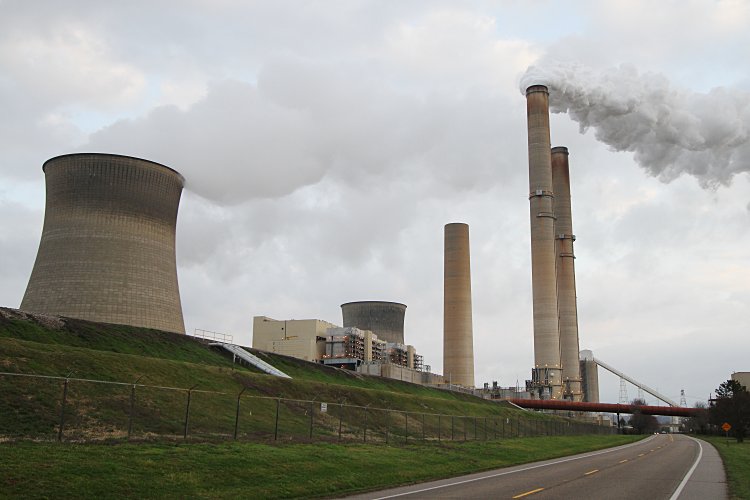 Another look at the Gavin Power Plant.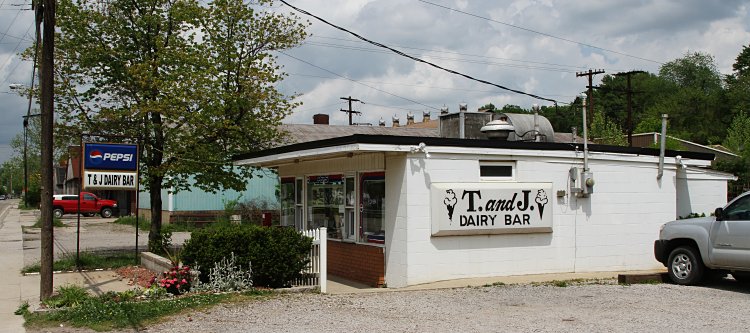 The T&J Dairy Bar in Oak Hill, Ohio. It seems most every tiny town in southeast Ohio has something like this -- a little place where you order at the window for hamburgers, fries, hotdogs (aka footers), and soft-serve icecream. My friend Brian and I had a bit of mixed feelings about these places: it's not exactly healthy fare and sometimes there is a wait. Still a lot more interesting than McDonalds. May 2012.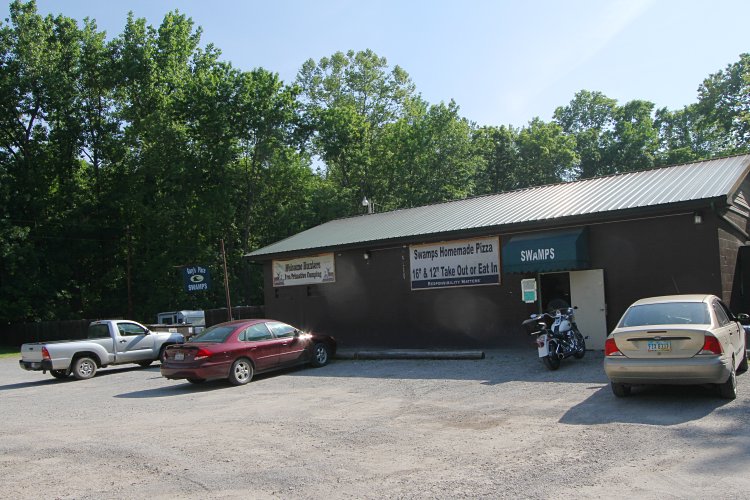 "Swamps" -- a bar I stopped at for some refreshment after a productive day of hiking, on May 19, 2012. It's in the middle of nowhere Appalachia, sort of close to Oak Hill, I suppose. Actually, it's in the middle of a swamp (anyone remember the movie Porky's?), hence the name. It seems to serve a diverse clientele: bikers, locals, hunters,... An interesting place. It was a hot day and I appreciated the cold beer.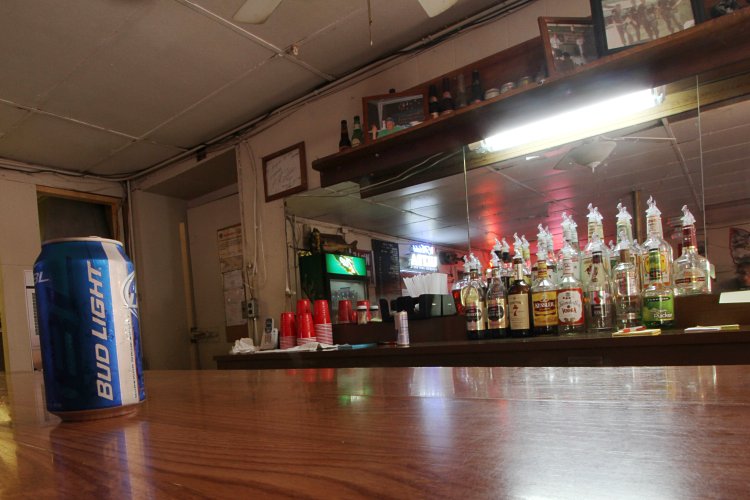 Chillin' at Swamps.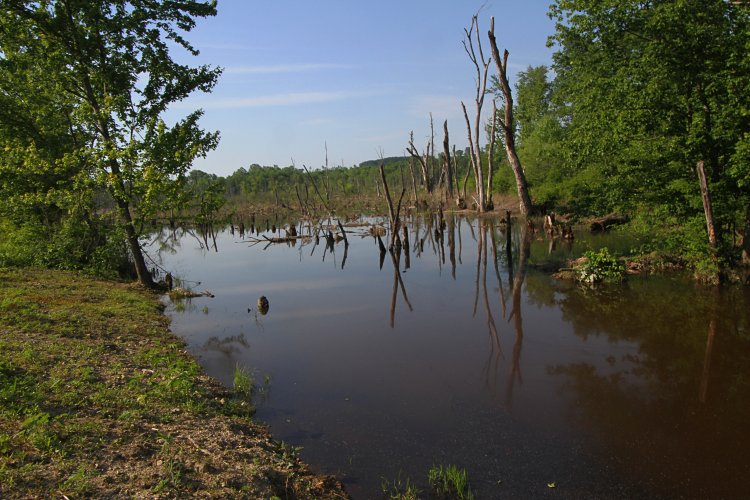 The swamp at Swamps.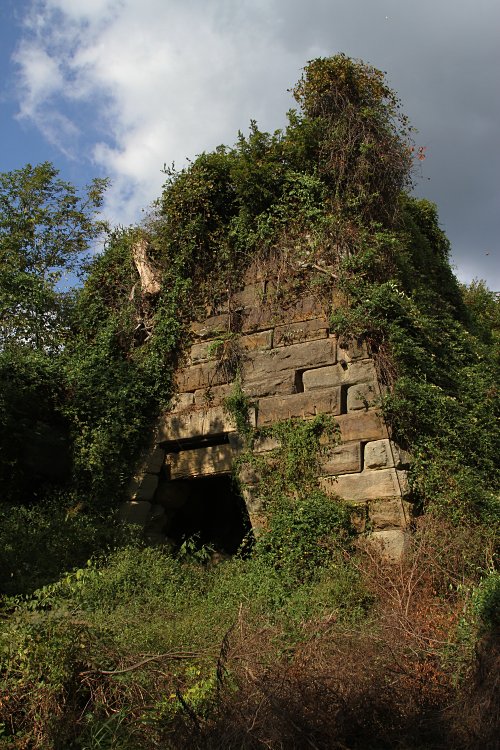 The Buckhorn Furnace, in Lawrence County, Ohio. It was built in 1833, and produced iron through about 1900. Nowadays, I think that mother nature has reclaimed ownership! September 2012.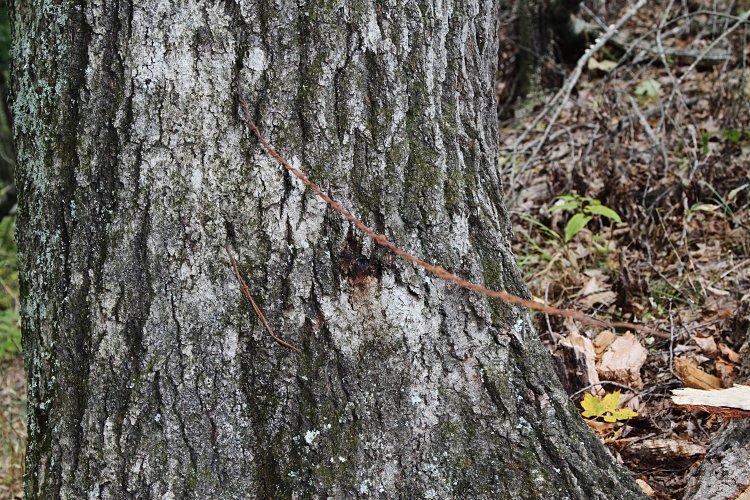 Two old pieces of barbed wire, going right through the center of a large hardwood. September 2012.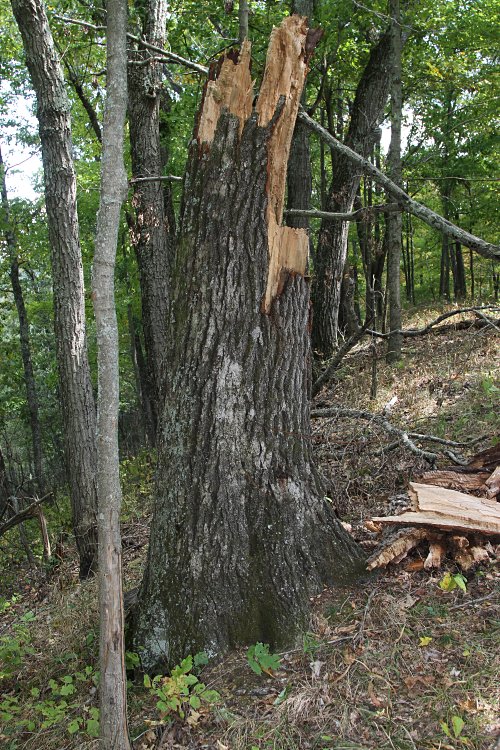 The tree is located on a remote ridgetop, far from any road or trail. I should say "was" -- as it is in fact snapped off, probably by the derecho storm a few months prior. It was one of the largest trees in the area. Time marches on...


A view from a ridgetop on October 2012. Unfortunately, it pretty much requires recent logging to get an open view like this around here.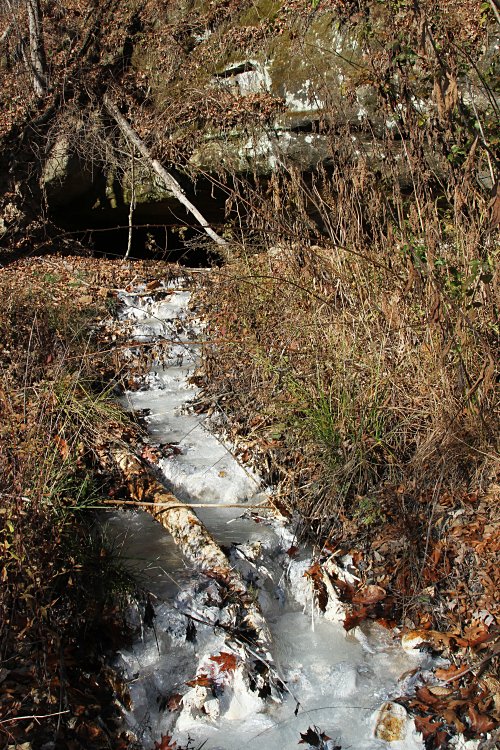 I came across this one day in early November 2012. The stream is flowing out of an old coal mine in southeast Ohio. I had to do a little research. It is the Essex Mine and was abandoned in the 1920s. It still puts out >700 lbs/day of acid and >200 lbs/day of metals. The precipitate is white in this case due to the prevalence of aluminum in the discharge. Orange (due to iron) is more common in my experience. In any case, it's not good for any aquatic critters trying to get by downstream.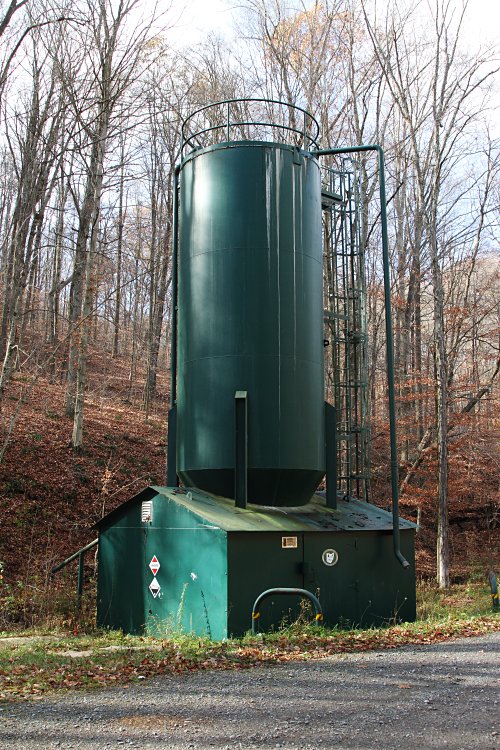 This "doser" is located just downstream from the Essex mine. I think the idea is that it is supposed to put stuff into the creek to neutralize the acid, but it didn't appear to be doing anything useful at this time.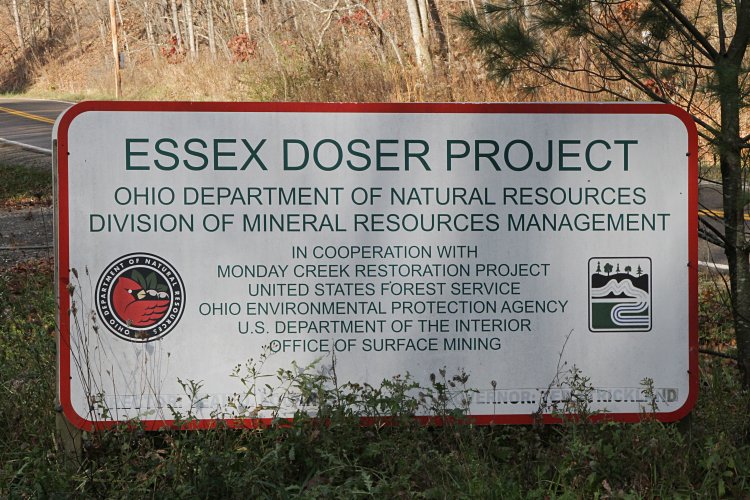 Nearby signage. I find it amusing how ex-governor Strickland's name has been weakly whitewashed over. Why even put the governor's name on a sign like this in the first place? Talk about planned obsolescence...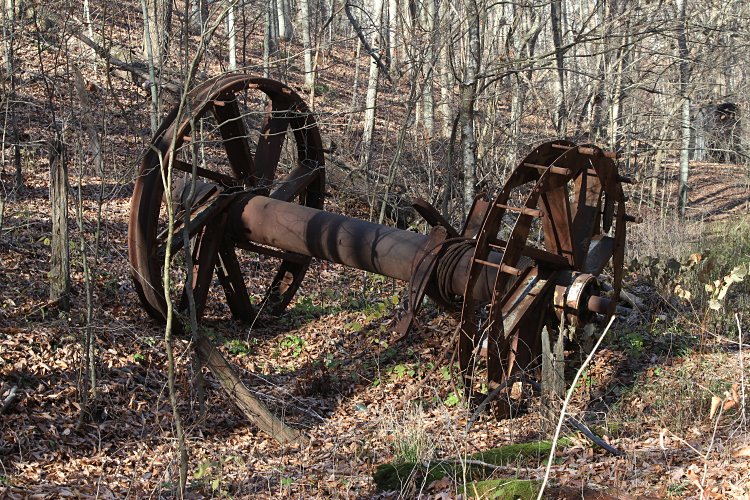 Some old mining equipment. The outer pulleys are about 6' in diameter. This kind of thing is more typical to find the in the California desert than in southeast Ohio.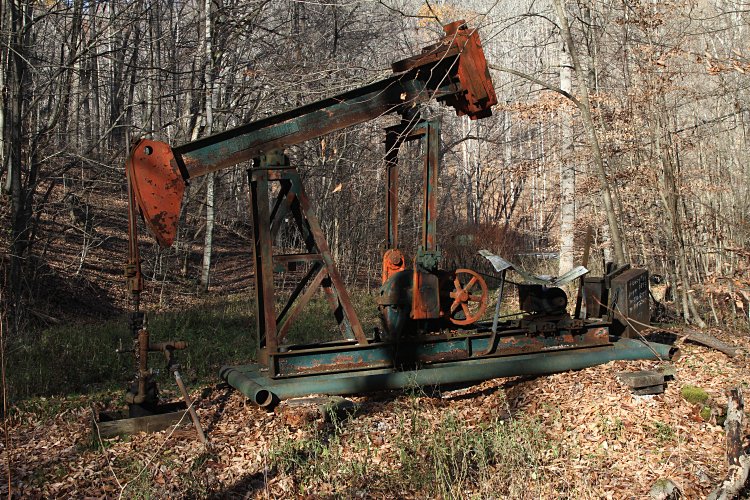 An active oil well near the Essex mine. I believe it is on a timer to only pump occasionally. Just for the record, this well does not appear to be creating any significant environmental problems. A Green Frog and a Southern Two-lined Salamander were observed about 50 feet from here.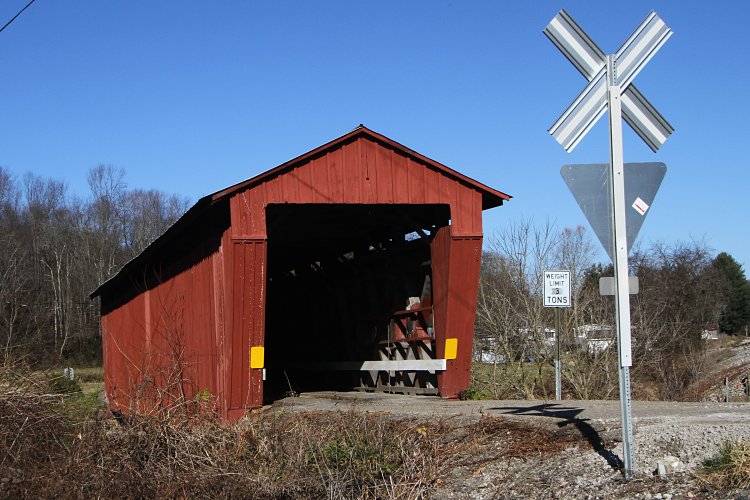 The Palos Covered Bridge, in Athens County, Ohio. November 2012.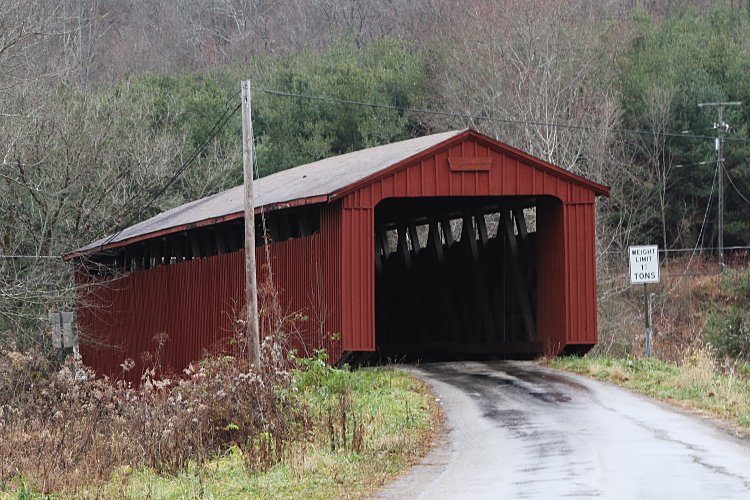 The Kidwell Covered Bridge, in Athens County, Ohio. November 2012.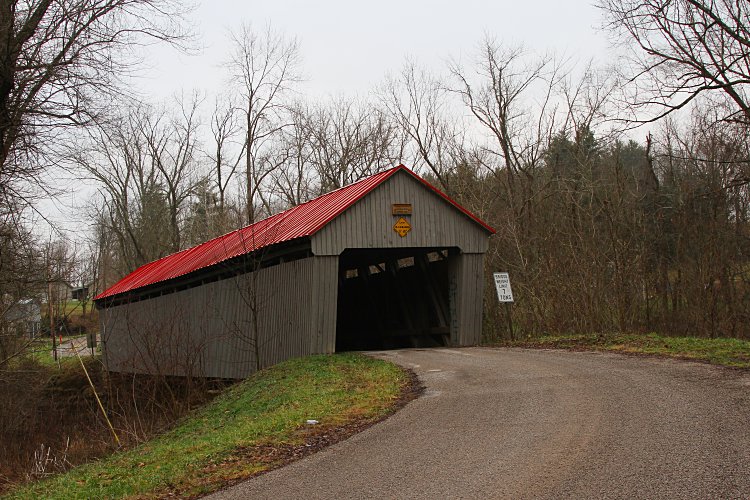 The Arbaugh Covered Bridge, in Vinton County, Ohio. December 2012.


The view from the highest point in Scioto County. Not bad for Ohio. Technically, I'm not quite on the highest point here, but this spot spot had been logged and provided an open vista. December 2012.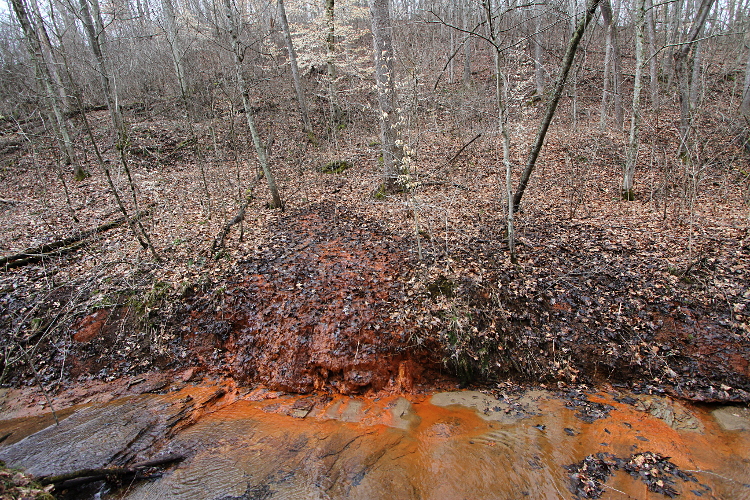 Some mine drainage oozing into the creek. Kind of pretty, but it's not supposed to be that way. There was little life in the creek downstream from here. However, a spring-fed marsh is located about 20 yards from here that had nesting Fourtoed Salamanders in it. I think the important point is that the marsh receives it water from a separate (clean) spring. March 2013.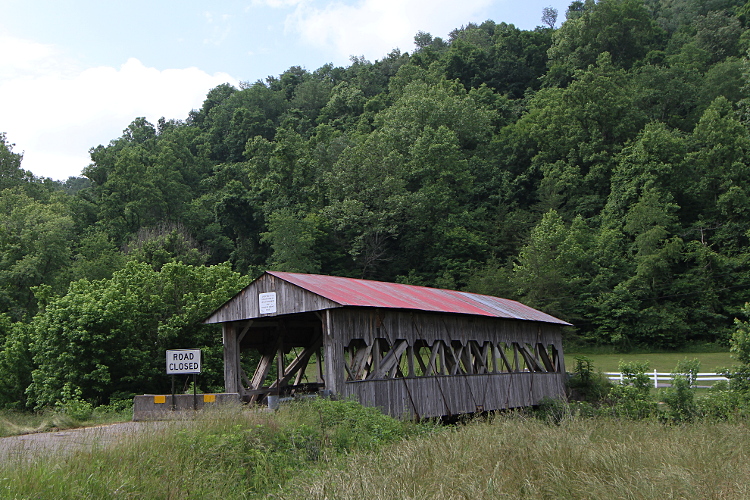 The Scottown covered bridge in Lawrence County, Ohio. June 8, 2013. The sign says it was built in 1874.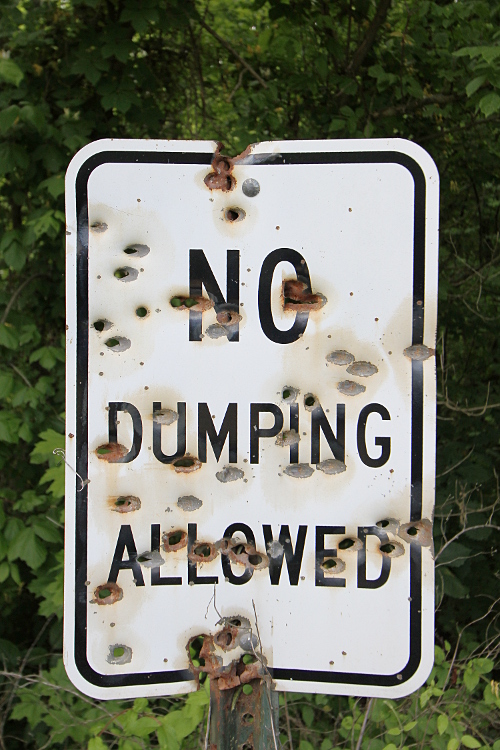 This sign gets no respect. June 2013.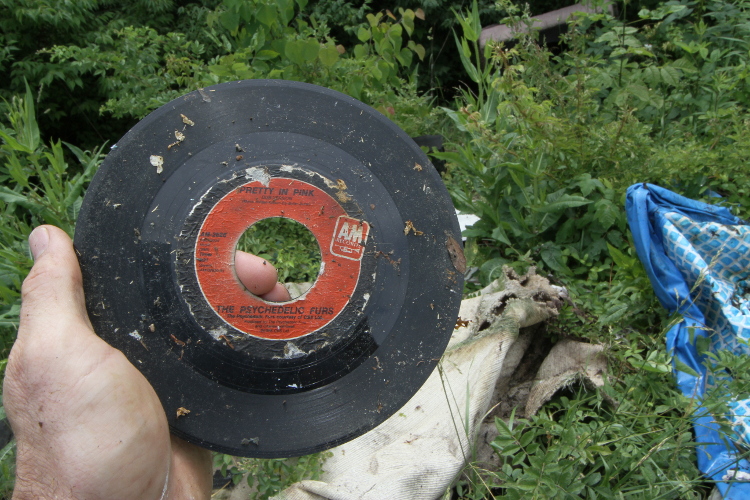 Rummaging through a trash pile yielded this artifact that dates from late in the vinyl 45 epoch. June 2013.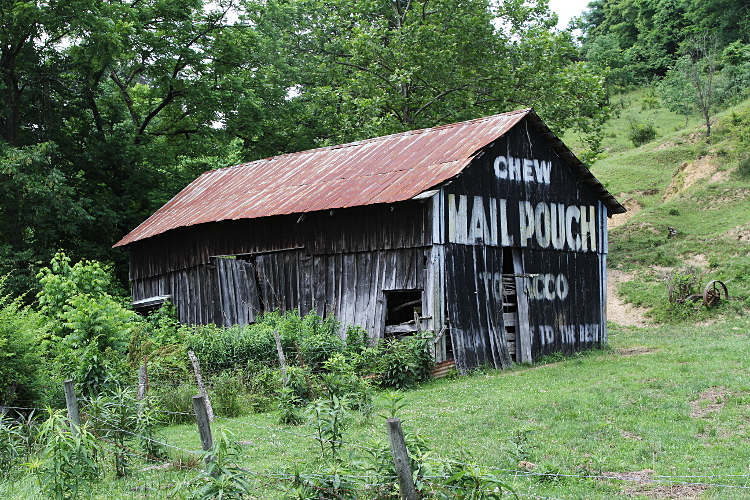 A classic old barn I saw in mid June, 2013. This one had not been painted in a good long while.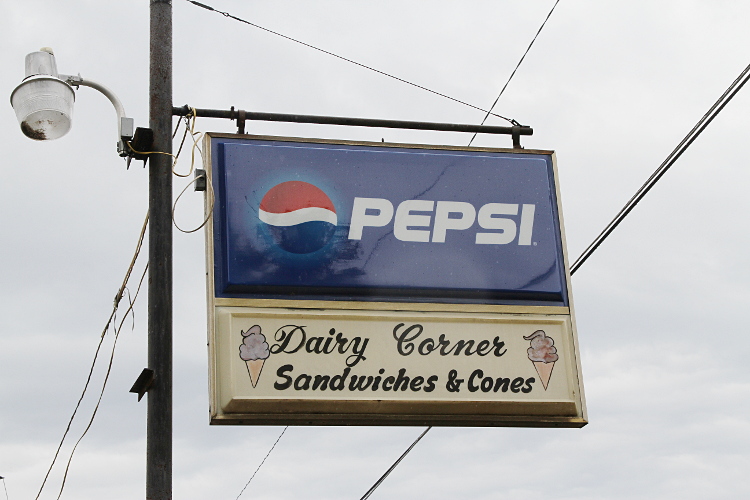 On June 16, 2013, Roxanne and I spent several hours hiking. First we stopped for lunch, at the Dairy Corner in Wellston, Ohio.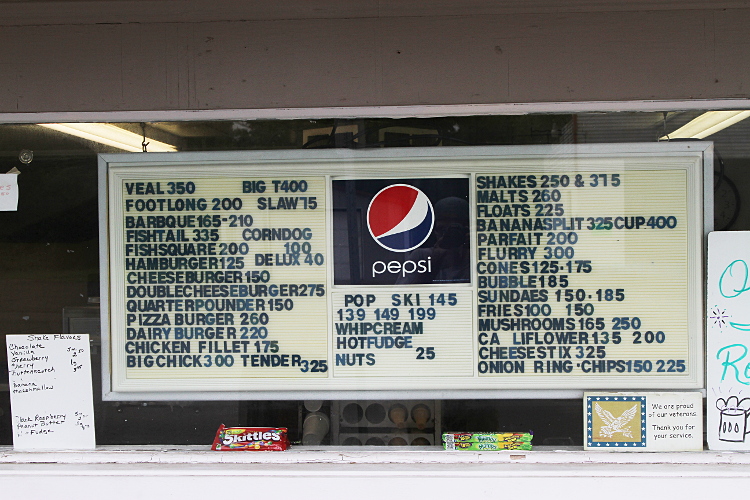 The menu.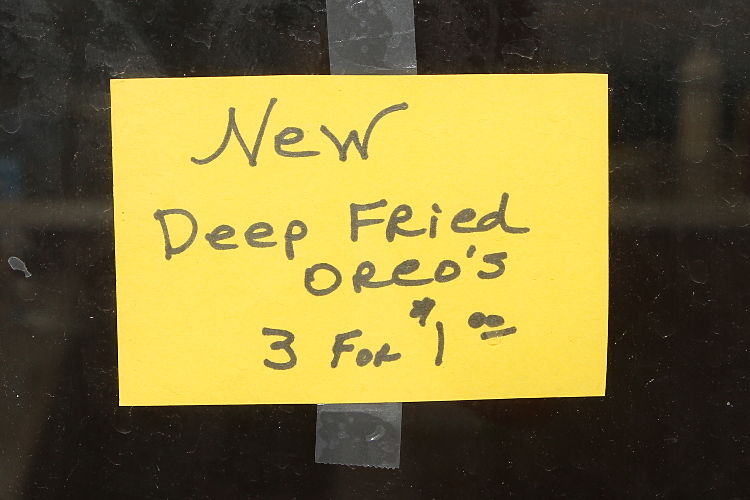 We passed on dessert...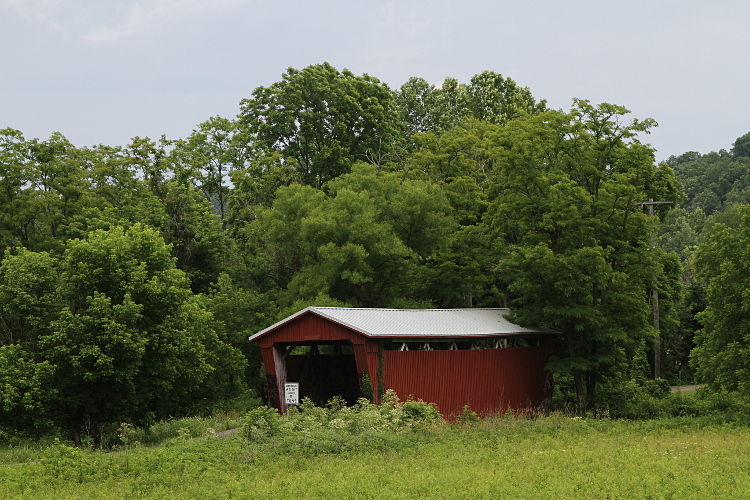 We then checked out the Byer covered bridge in Jackson County, Ohio.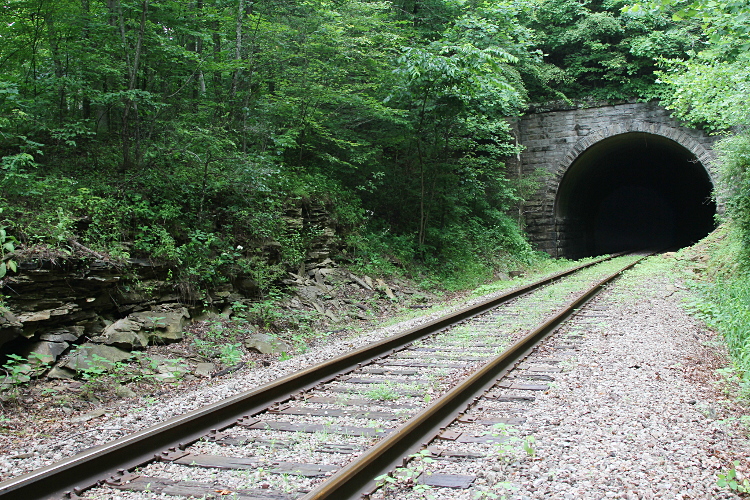 A railroad tunnel. This rail line only sees one or two trains a week. Looks like good reptile habitat... June 2013.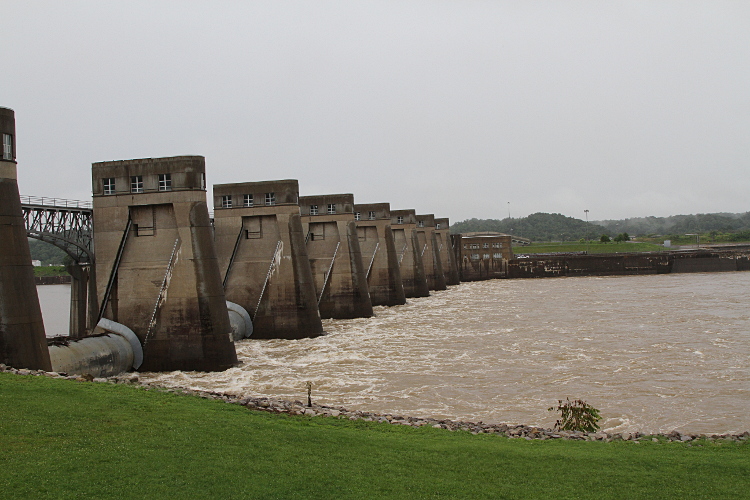 The Gallipolis Lock and Dam on the Ohio River on July 7, 2013. Some people (on the other side of the river?) call it the Robert C. Byrd Lock and Dam. In any case, it is an impressive piece of engineering. And there was some serious throughput, due to all the recent rain.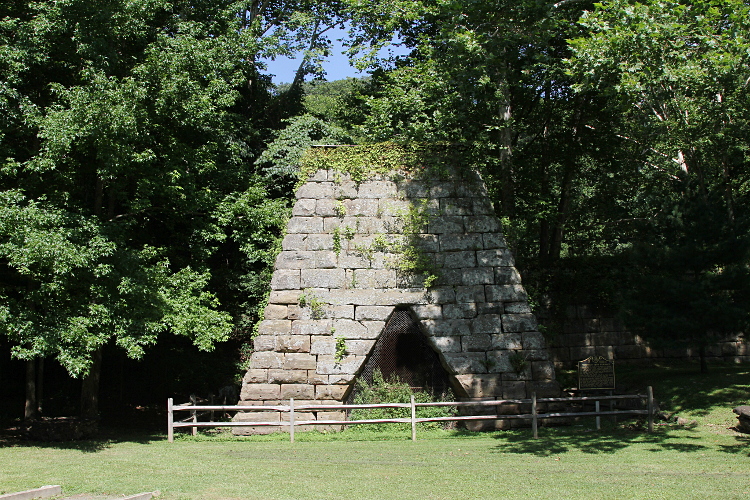 The Vesuvius Iron Furnace. It stopped production in 1906. Photographed July 26, 2013.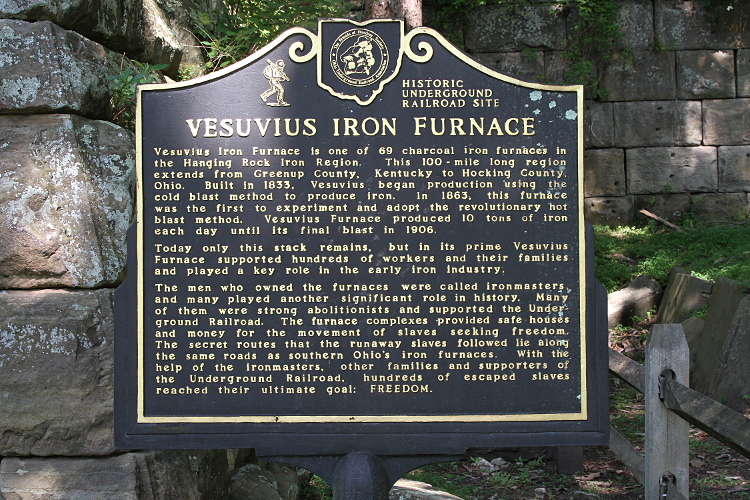 This really makes you think.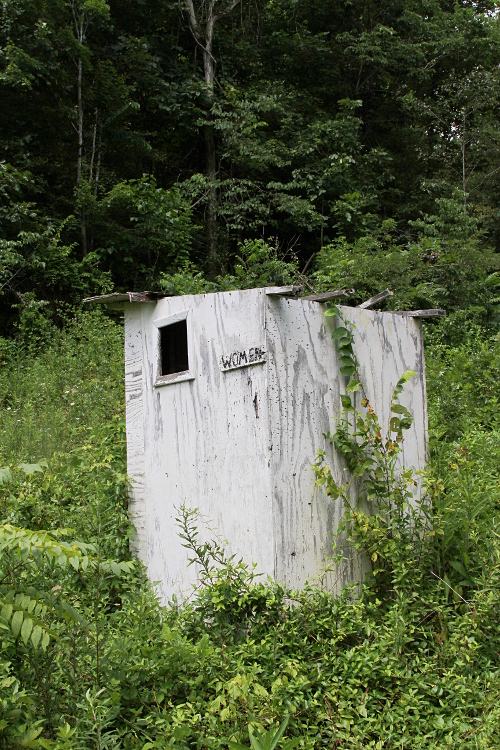 Lady's room. Men's was nowhere to be found... For some reason outhouses are often the only thing still standing at abandoned homesteads. August 2013.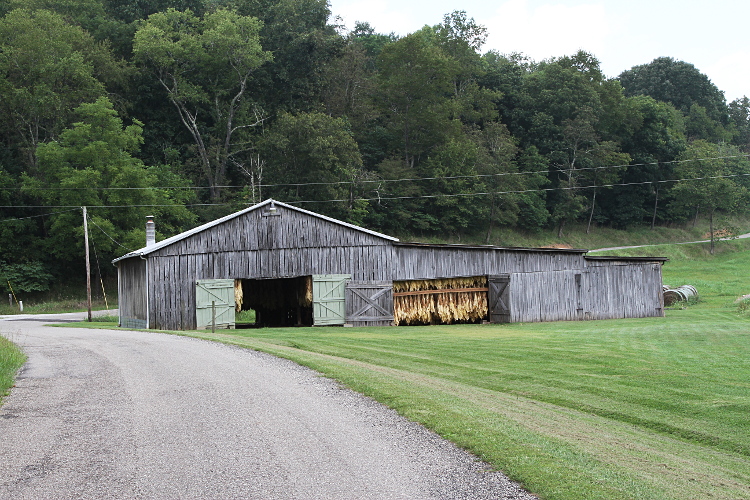 Early September is the season for curing tobacco in the barn. In Gallia Co, Ohio. September 2013.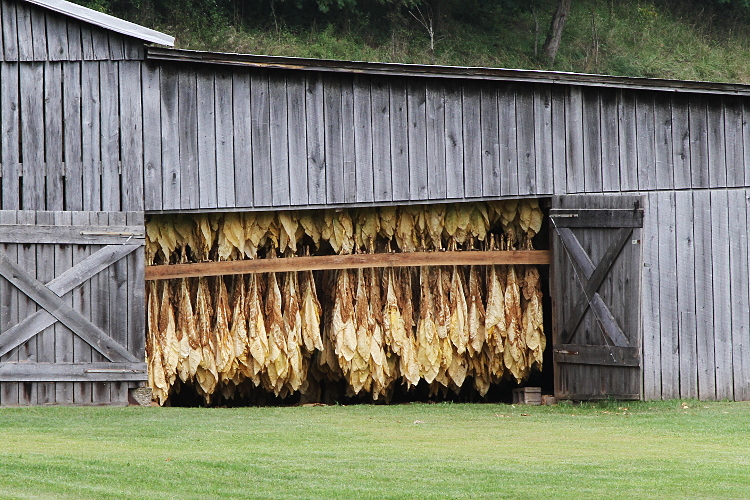 A closer look at the tobacco.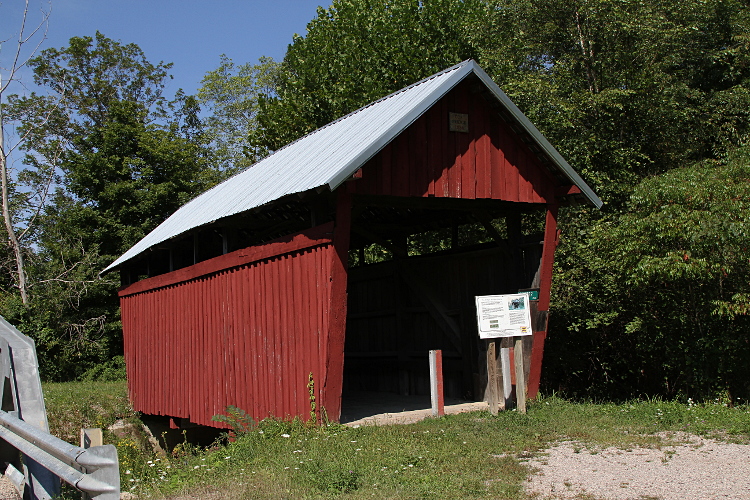 The Cox Bridge in Vinton County, Ohio. It's a pretty short one, built in 1884. In 1992 it was moved to the side to make room for a modern (less interesting) bridge. The guard rail in the lower left is part of the new bridge.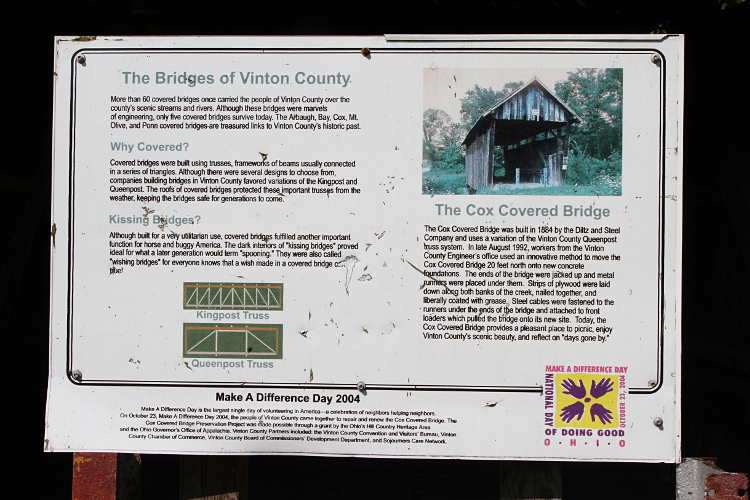 The sign in front of the Cox Bridge. Hard to believe there were once over 60 of these in just this county.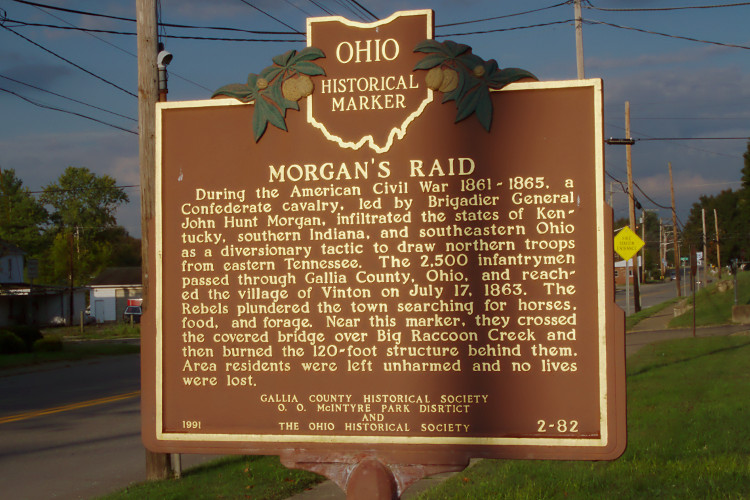 Ohio has rather limited Civil War history. I did find this interesting. September 2013.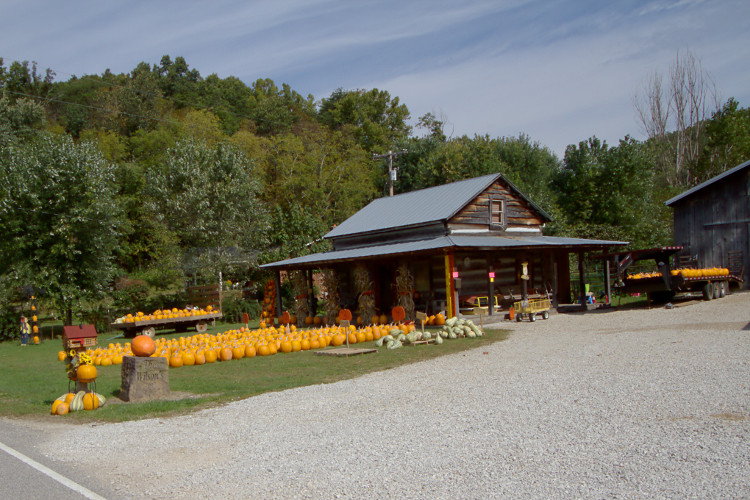 This little farm house was really into the Halloween spirit. This was near Wilgus in Lawrence County Ohio, about as "middle of nowhere" as you can get in this part of the country. September 29, 2013.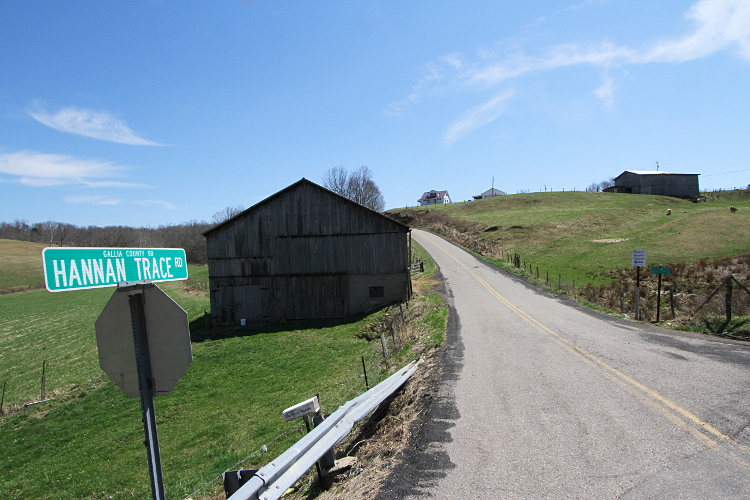 The Hannan Trace was laid out by Thomas Hannan in 1798. It connected Saint Albans (West) Virginia to Chillicothe, Ohio. Chillicothe was the capital of the Northwest Territories at the time and would later be the capital of the state of Ohio (1803-1810 and 1812-1816). For a while, this road was one of the most important connections between this region and points east. As time marched on, the capital was moved to Columbus and other roads were built. U.S. Highway 35 more-or-less follows the same path today. Now, the Hannan Trace only exists in bits and pieces, quiet back roads in Appalachia. Photographed in April 2014.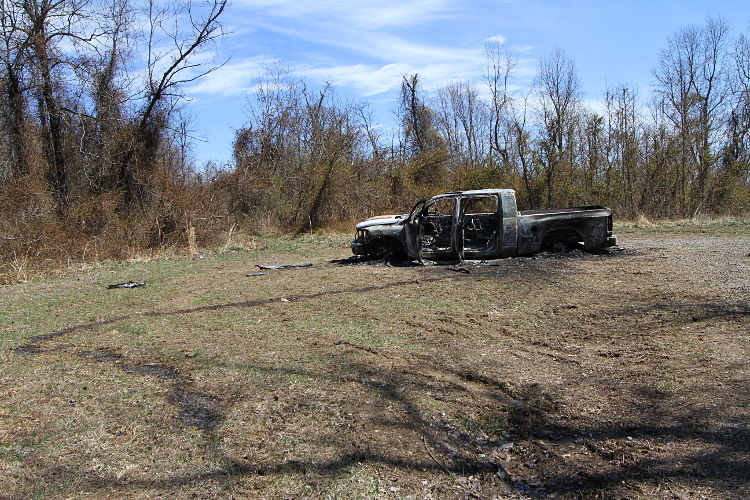 You never know what you're gonna find when you explore little-traveled roads that dead end in the middle of nowhere. Sometimes bad things. Somebody had recently torched this very nice late model truck. Note the "fuse track" (probably poured gasoline) in the foreground. I sure hope I never run across anything worse, or in progress. I did report this to the county sheriff, and learned that the truck was reported stolen the same day I saw it. April 2014.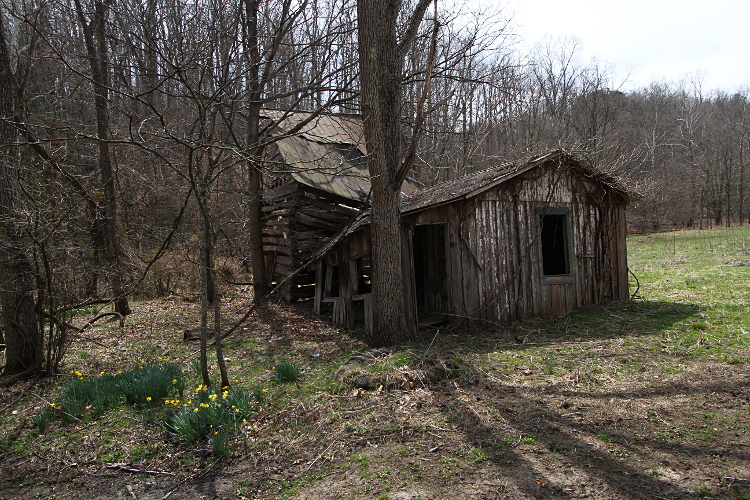 An old barn I found hiking. On National Forest property, about 3/4 of a mile from the nearest road, nowadays. Note the daffodils in the foreground. Most likely the legacy of a thoughtful farm wife, way back when. April 2014.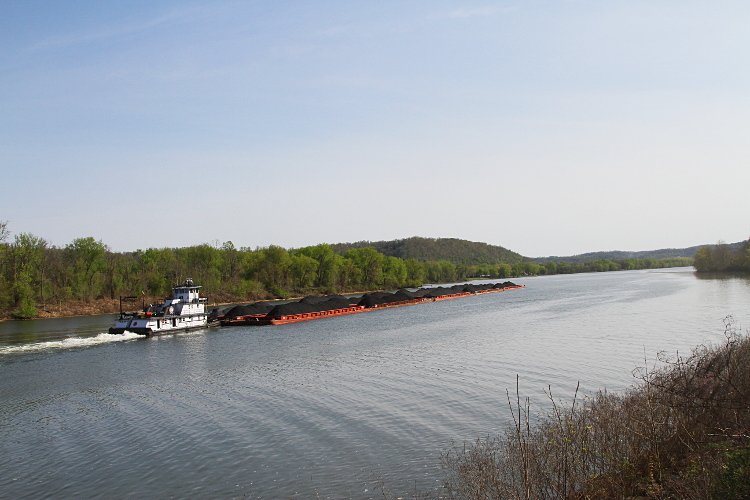 A towboat pushing a massive barge of coal down the Ohio River. April 2014.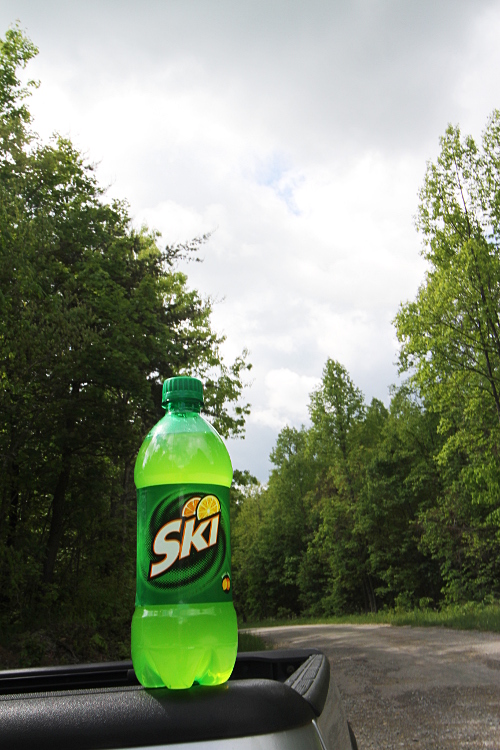 Ski soda is apparently only available in the Appalachian region of the USA. It used to be bottled in Wellston, Ohio -- just down the road from us. It tastes kind of like Mountain Dew, but has more of an orange flavor. I seldom drink soda, but I gave it a go. Tasty. May 2014.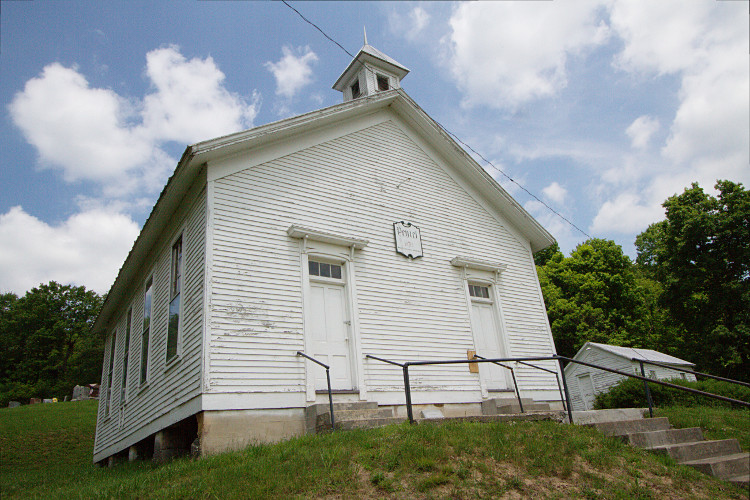 An old church in Peniel, OH. No longer a town, just an intersection in the middle of nowhere, Gallia County. There are literally 100s of these in southeast Ohio. Like this one, they just about always have a cemetery adjacent to them. The sign says the church was built in 1870 and the denomination is Welsh Calvinistic Methodist (quite a mouthful). A little research indicates that over 3,000 Welsh people emigrated to this area (Gallia and Jackson Counties, OH) in the 1820-1850 timeframe. Photographed June 2014.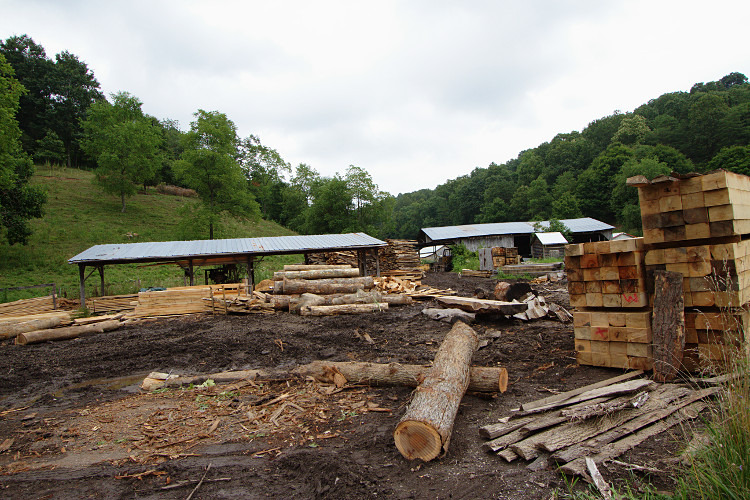 An old school saw mill that I came across. This mostly seems to be done in a factory setting anymore, but occasionally you run across something like this out in the boonies. The saw is under the shelter. They are turning out large 4"x6" beams right now. Back in the 1930s, Roger Conant said that slab piles were great for finding snakes. "Slabs" are the leftovers, part wood, part bark, like you see in the foreground. There are some massive piles farther back... June 2014.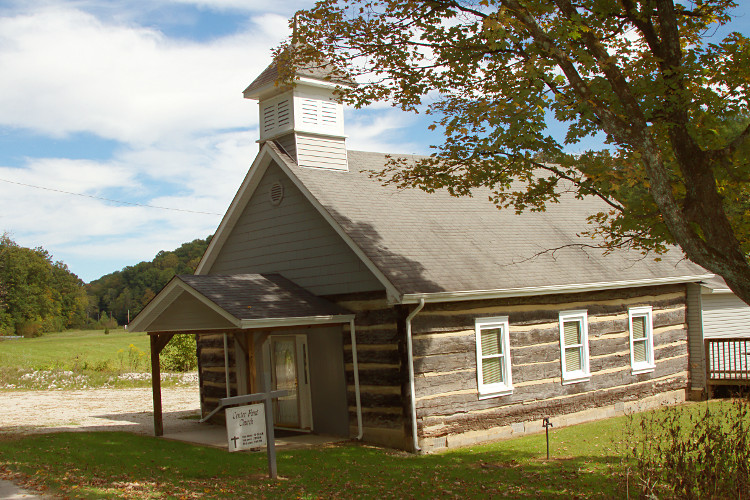 The Center Point Church in Lawrence County, Ohio. September 2014.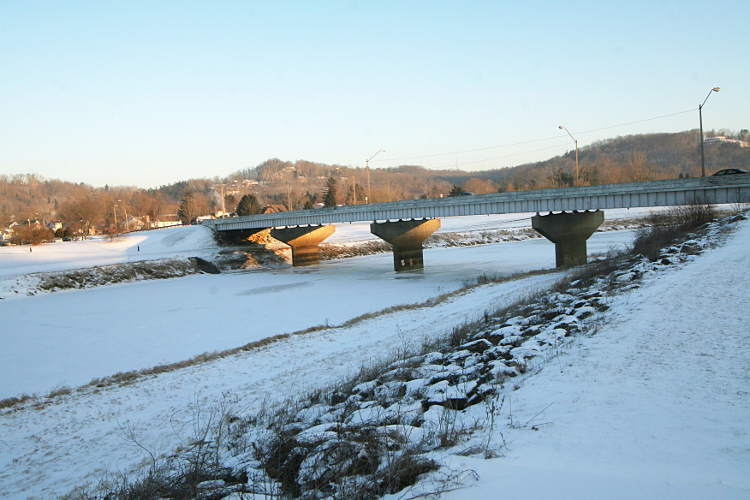 We had a cold spell in early 2015 where the Hocking River nearly completely froze over. You don't see that too often here. This is looking downstream at the Stimson Avenue bridge. Photographed February 20, 2015.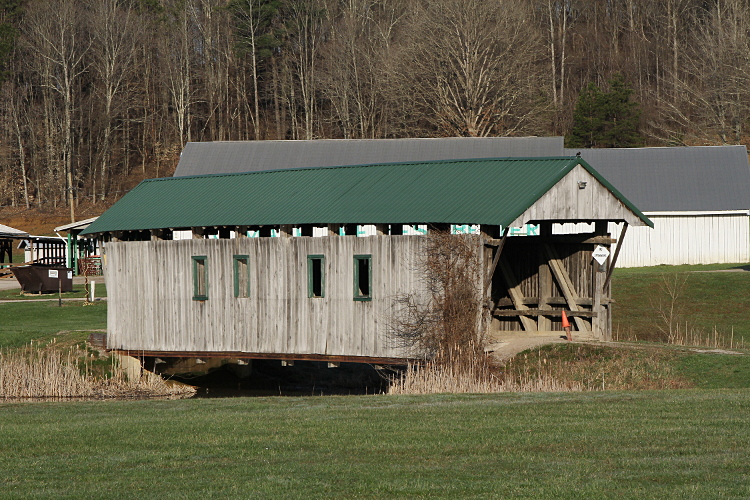 The Bay Covered Bridge. It was built in 1876. Nowadays, it spans part of a pond on the the Vinton County Fairgrounds, just north of MacArthur, Ohio. It was moved here in 1966 when nearby Lake Rupert was constructed. It is nice that they saved it. April 2015.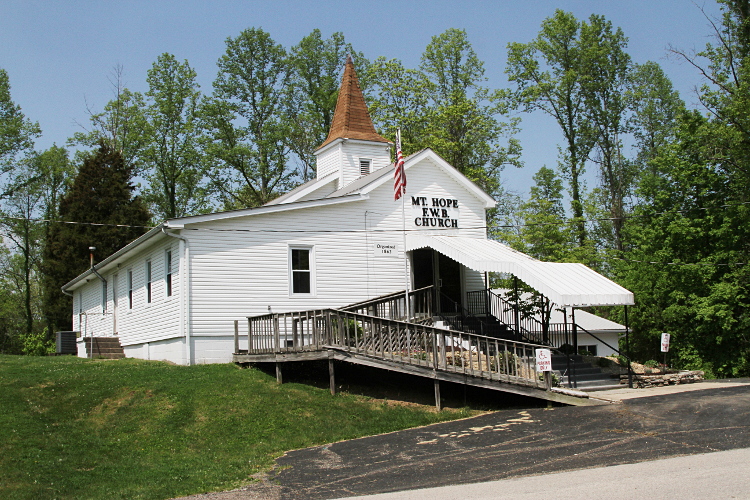 I always like seeing the the old churches in the boonies of southeast Ohio. This one has a fresh coat of white paint. May 2015.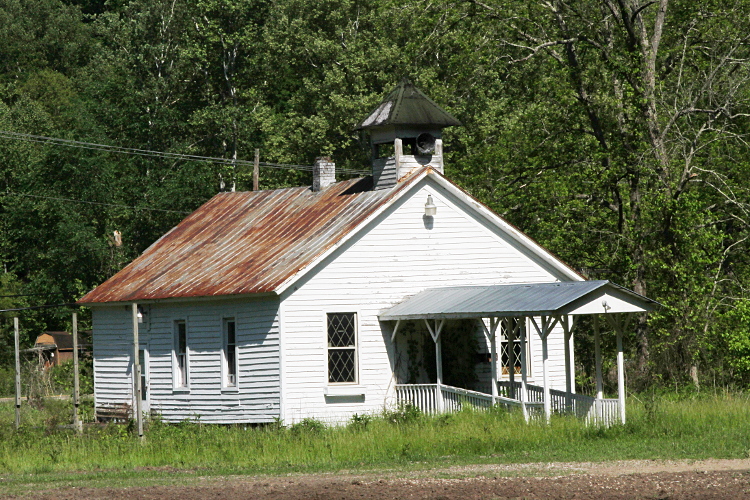 As I've already mentioned, I find the churches intriguing. This is an unusual sight, one that is being let go. You can't tell this from the photo, but the field in the foreground is plowed and the church is cut off from the road. May 2015.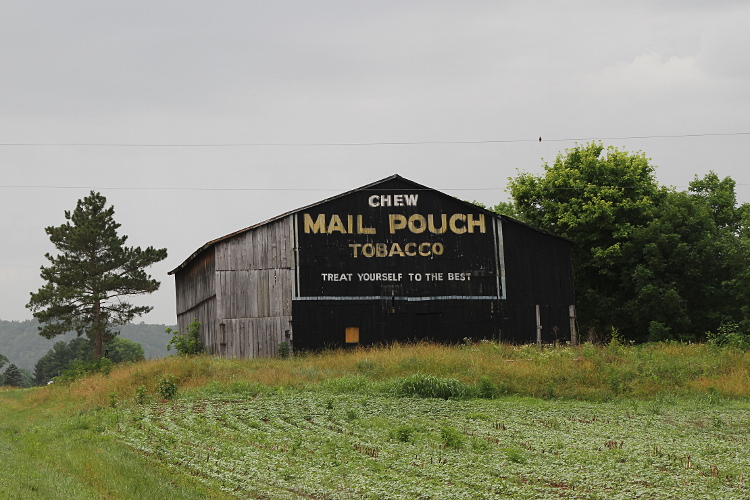 Another cool old barn. June 2015.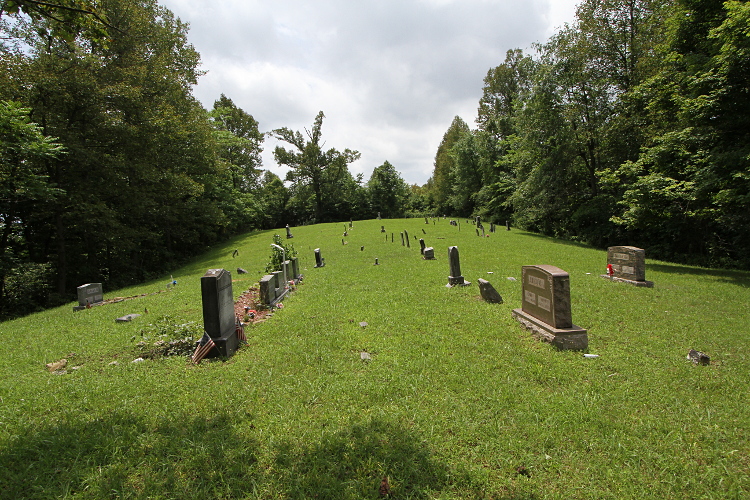 An old cemetery, out in the middle of nowhere. Most of the graves are over 100 years old. These are actually pretty common to run across. Most of them, like this one, are located on ridge tops. Even in the most remote areas, nearly all of them are taken care of and the grass is mowed a few times a year. In a few cases, such as for some of the graves at this site, the old tombstones have been replaced by modern ones. I've also noticed that certain types vegetation are common to see at these old cemeteries, but rare elsewhere in the region. Particularly cedar trees and yucca plants. I did a little research and it turns out that these are traditional cemetery plantings, because they are evergreen and require little to no maintenance. July 2015.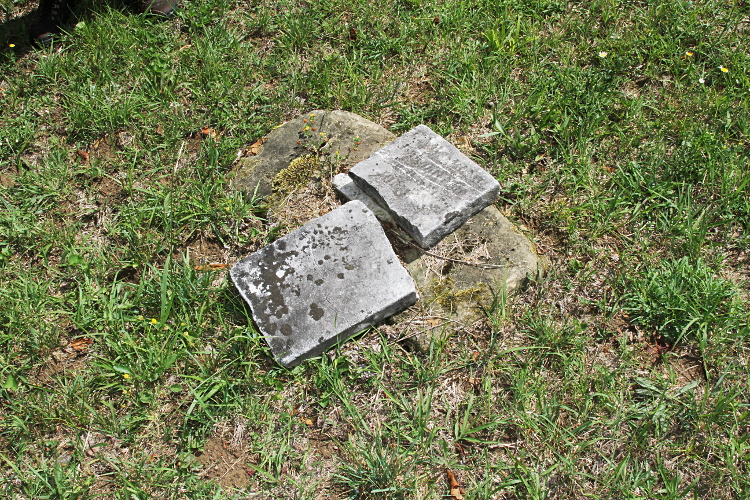 One of the older stones. In this case, I could not resist looking under the broken piece on the left. A Milksnake was revealed.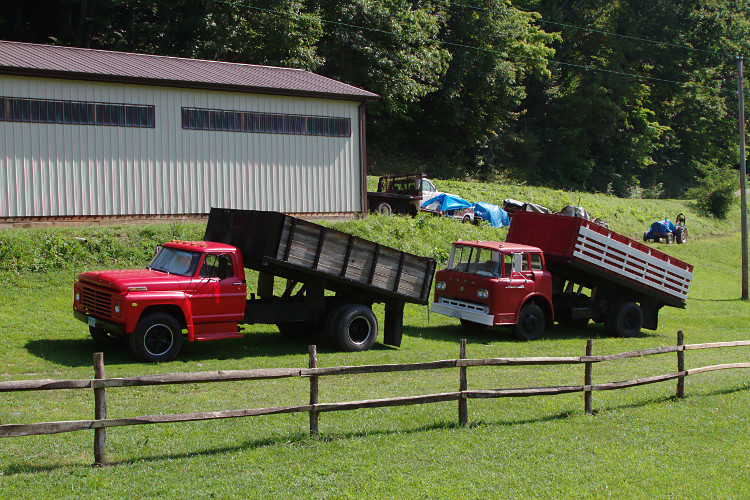 A couple of cool old Ford dump trucks I saw. The owner is obviously proud of them -- I was happy he was showing them off. August 2015.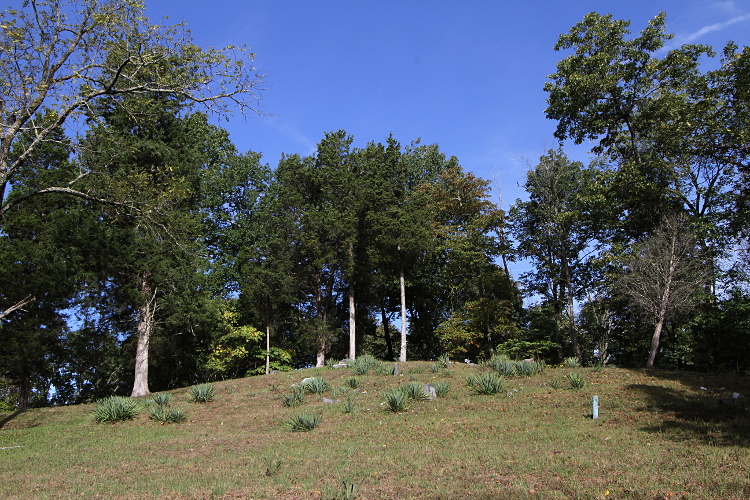 An old cemetery, complete with cedars and yucca. Seeing the old graves kind of puts you in your place. October 2015.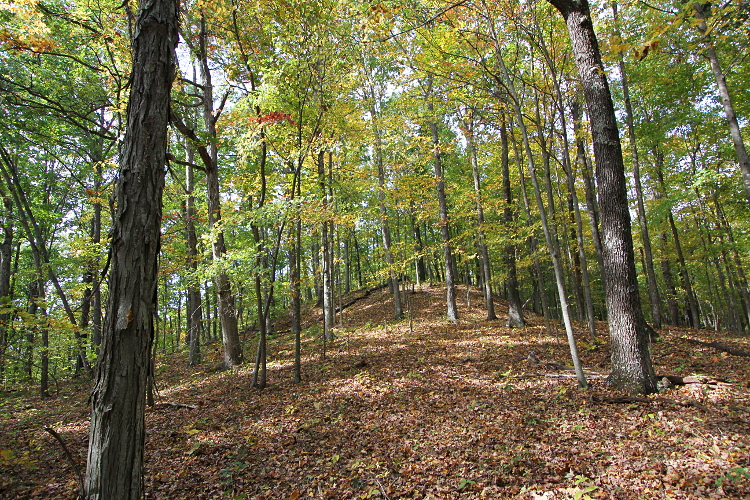 A mature oak-hickory forest is a wonderful thing. Also very pleasant and easy to walk through. October 8, 2015.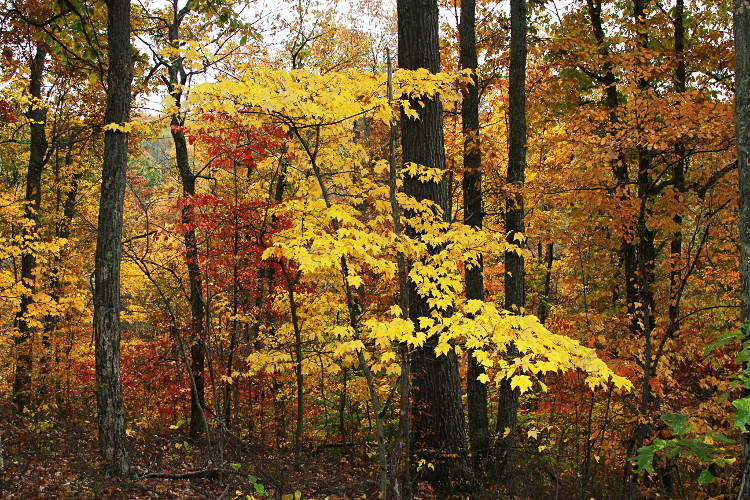 The fall colors were near their peak on October 24, 2015. With the cloudy (and eventually drizzly) weather; they were really glowing.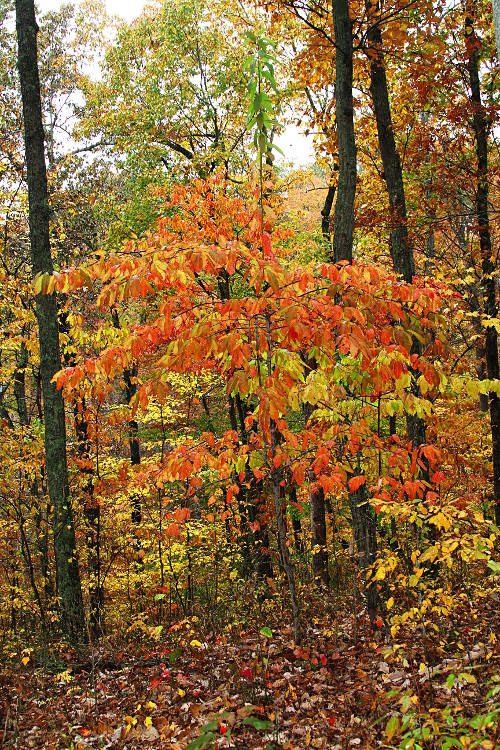 More fall colors.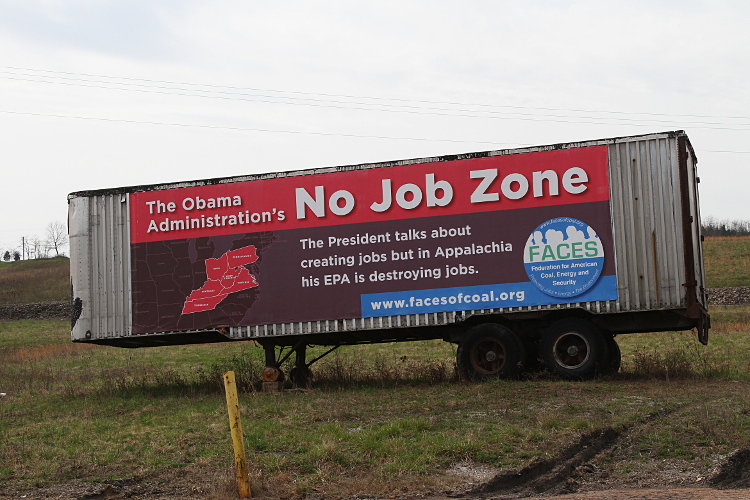 It must be an election year in Appalachia... March 2016.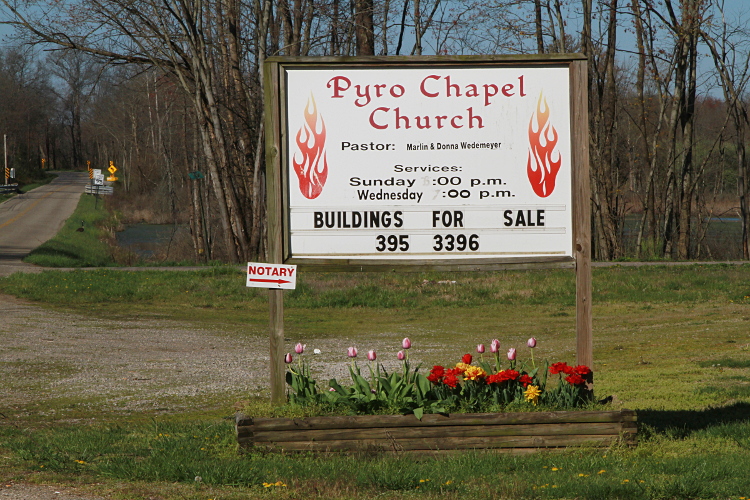 The town of Pyro in Jackson County, Ohio has always intrigued me. Probably because I was a bit of a pyro when I was kid and perhaps I did not completely outgrow it (kind of like lizard hunting). It turns out that Pyro started as a company town for the Pyro Clay Products Company over a hundred years ago. They made firebricks and other refractory items that could withstand high temperatures -- hence the name. The clay in Jackson and neighboring counties is apparently very good for this purpose and there were (and still are) several companies in the area in this business. The refractories plant in Pyro is still there but it goes by a different name now. I like how the church embraced the town name and included flames on their sign. The "for sale" part is a bit sad. April 2016. Note added: about six months later, I noticed that the "for sale" stuff had been removed from the sign and the times for services restored.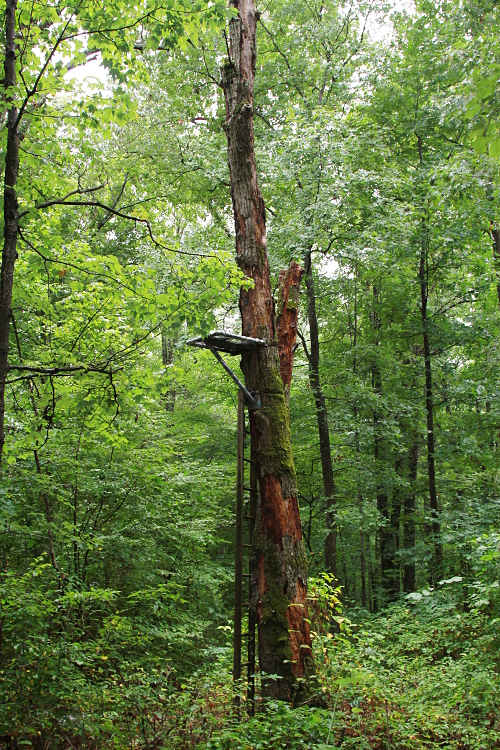 I thought this old-school tree stand was an interesting find. It is deep in the woods, far from any road. It has been here for a very long time. The chains that hold it to the tree are buried inside the wood of the trunk, so the tree must have grown quite a bit after the stand was installed. The tree has also been dead for many years and is about ready to fall over. The stand itself is made of thick-walled steel tubing. The ladder that you can see is made of wood and is totally rotten. July 2016.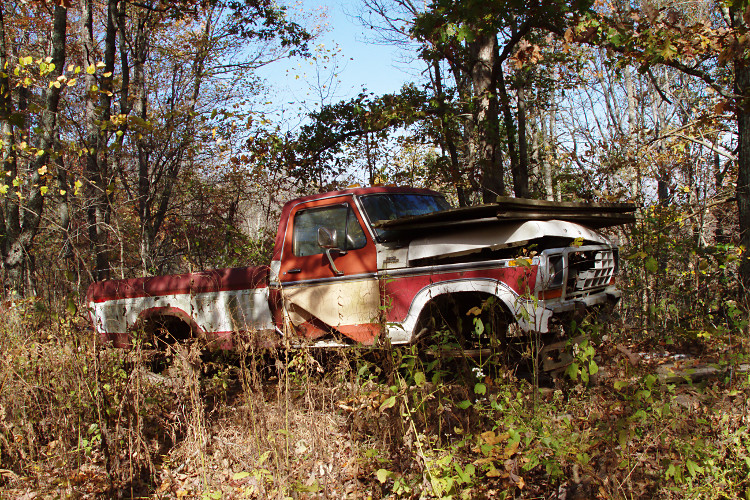 An old truck that I stumbled across deep in the woods. It's a circa 1980 Ford F250. The wheels are gone and it's sitting on cinder blocks. There is not even a road here any more. An honest appraisal of this situation suggests that I am the one that is old... October 2016.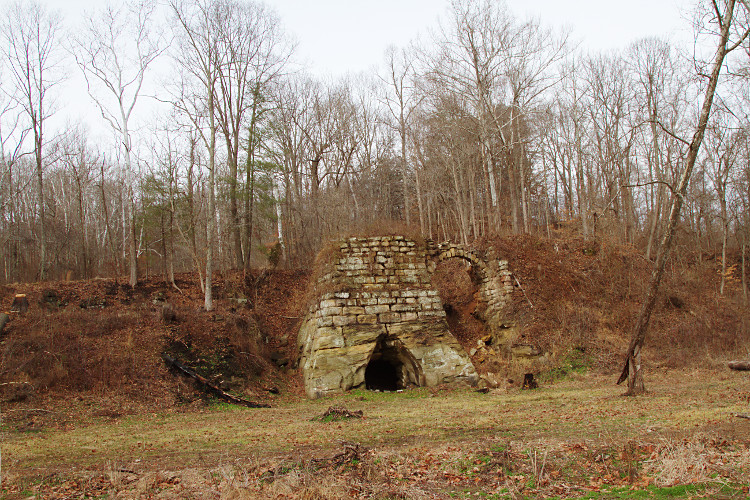 The Olive Furnace in Lawrence County, Ohio. It was built in 1846 and produced iron until 1910. Over the past year or so, the landowner has cleared the brush and trees around it so that it is easy to see from the road. January 2017.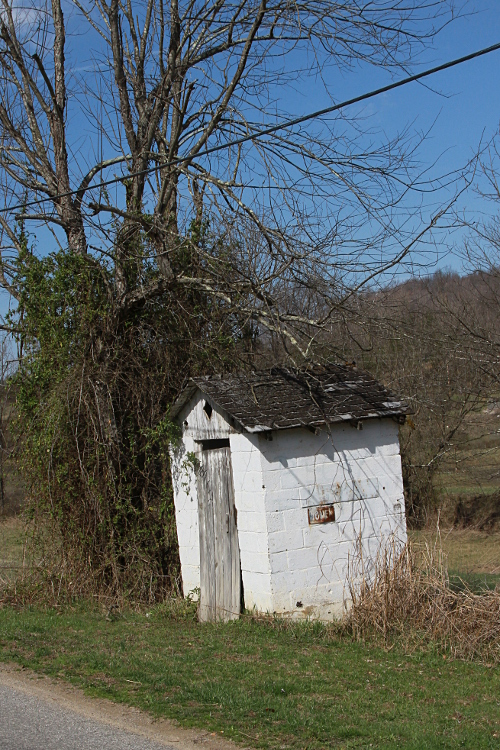 A roadside outhouse. The sign is a bit hard to read, but it says "women". March 2017.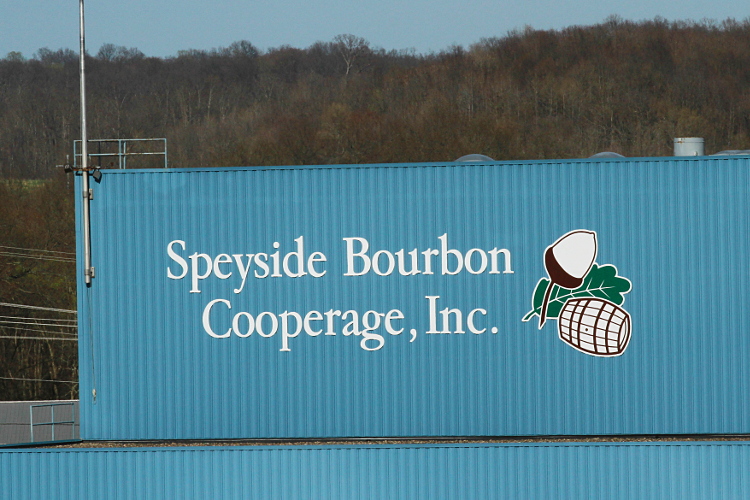 This is kind of cool for several reasons. First is the word "Cooperage," which means barrel factory. Second is that the White Oak, which grows abundantly in SE Ohio and is the preferred wood for making the staves (another cool word) for whiskey, bourbon, etc... barrels. Apparently the White Oak imparts critical flavor and aroma to the aging spirits. The third cool thing is that this shuttered former cabinet factory in Jackson, OH was recently re-purposed as a cooperage, creating a number of jobs in a region that sorely needs them. I hope this business thrives. April 2017.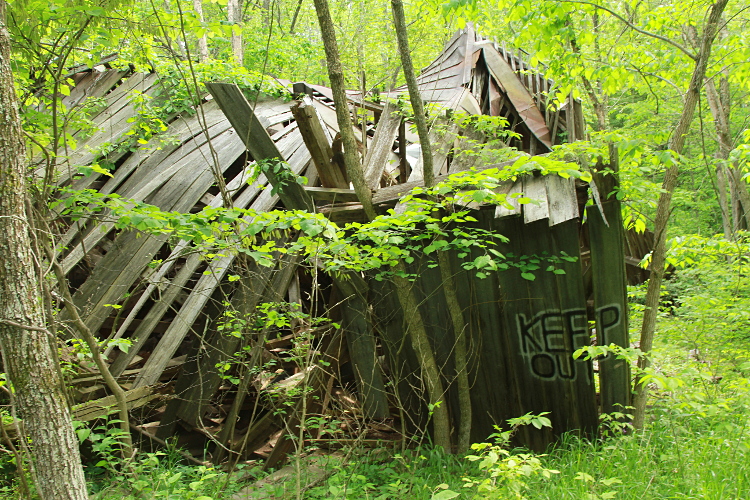 An old barn being reclaimed by mother nature. May 2017.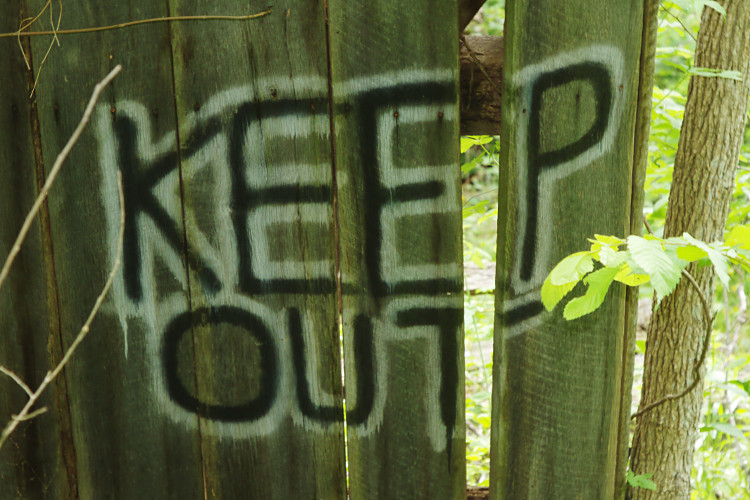 A closer look at the art work.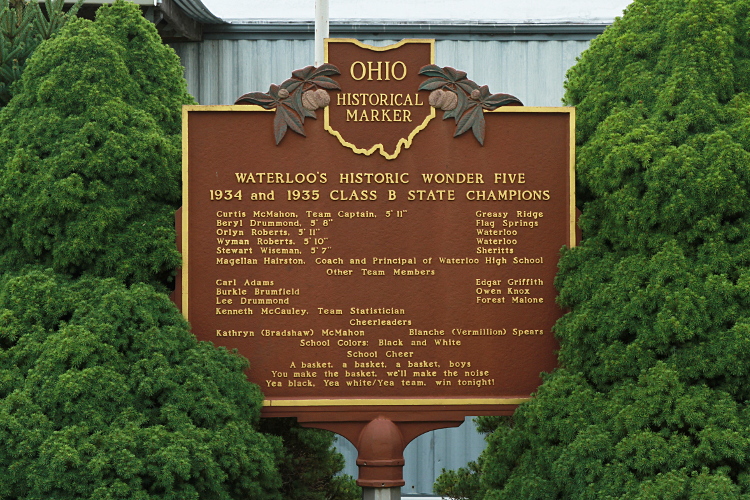 I noticed for the first time this historical marker in the town of Waterloo in July 2017. I'd driven past it many times before -- it is kind of hidden in someone's yard. In any case, the story of the Waterloo Wonders is even better than the Hoosiers. If you've got a couple minutes, there is a 1995 Sports Illustrated article about them: The Wonder Years, From 1933 to '35, a high school team from tiny Waterloo laid waste to Ohio, by Thomas Kunkel.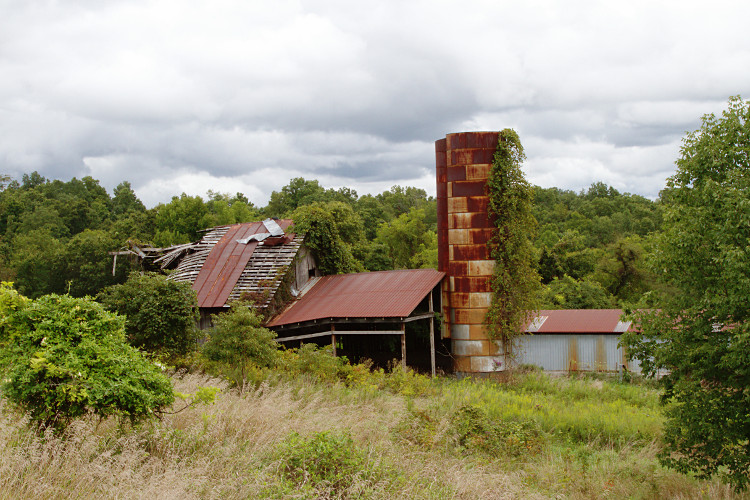 An old barn in southeast Ohio's Amish country, being retaken by mother nature. September 2017. There was a nice breeze in rural southeast Ohio on September 9, 2017, and many flags were seen flying in fine form. Statements of loyalty and identity, perhaps. Here's some of them.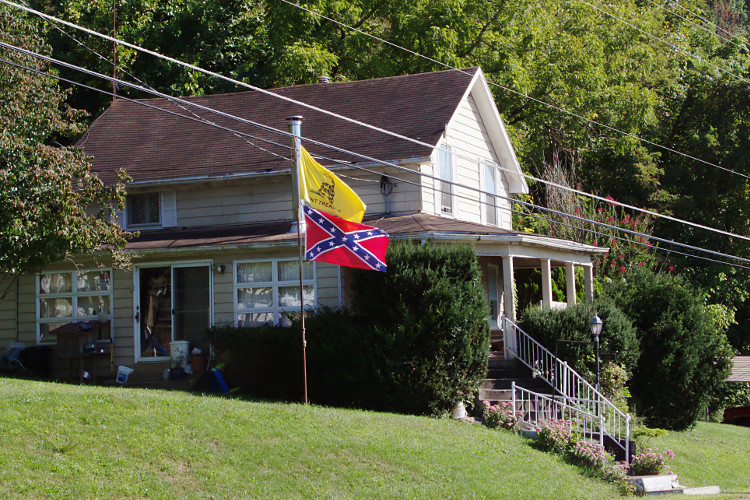 The Confederate flag is not unusual to see around here.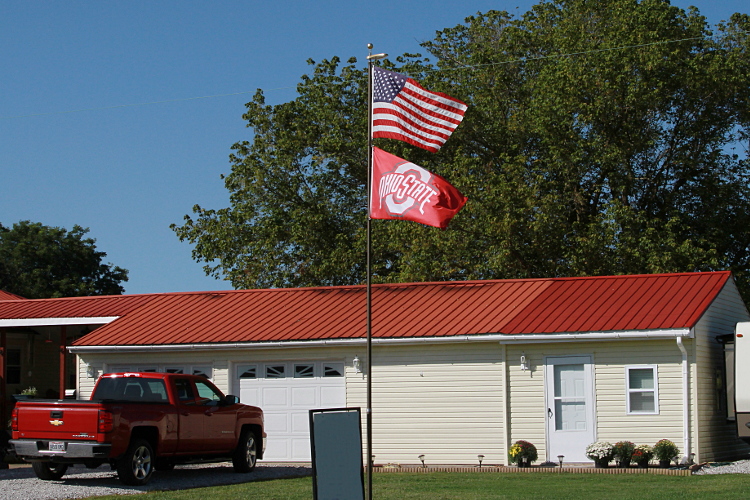 The Ohio State flag is also very popular. This did not turn out to be a good day for the Buckeyes, as they were beaten by the Oklahoma Sooners -- which made my son sad but my dad happy...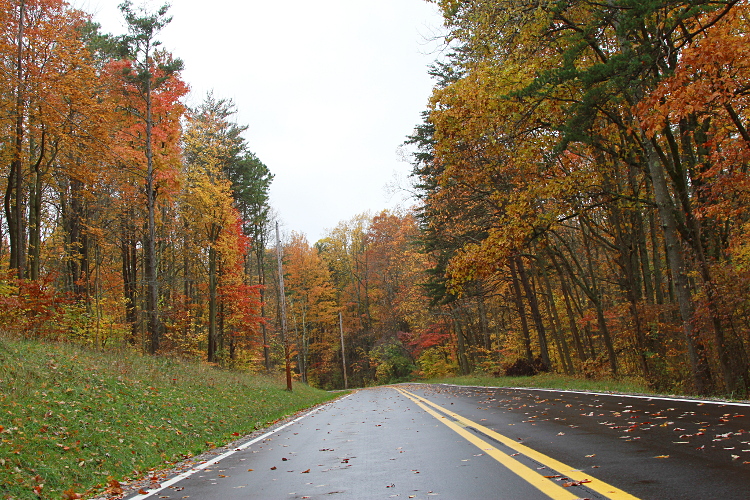 We had a warm fall and there were still nice colors in the first week of November, 2017.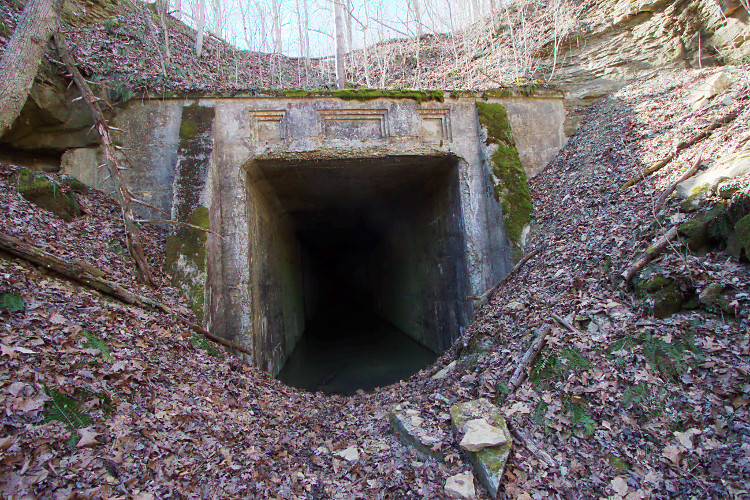 This southeast Ohio railroad tunnel was abandoned in 1916. Kinda puts you in your place. March 2018.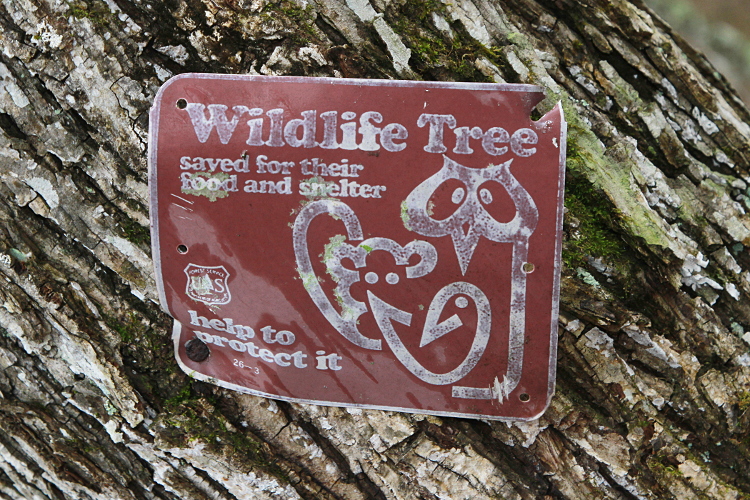 A small sign seen on a tree in an obscure part of the National Forest. I like how the growth of the tree pulled the nail out of the upper right corner. Failed the test of time. The style screams 1970s. April 2018.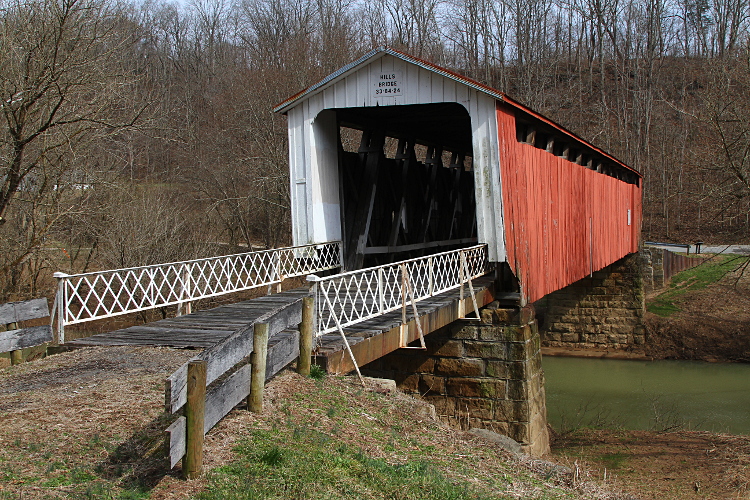 The Hills Covered Bridge in Washington County. March 2019.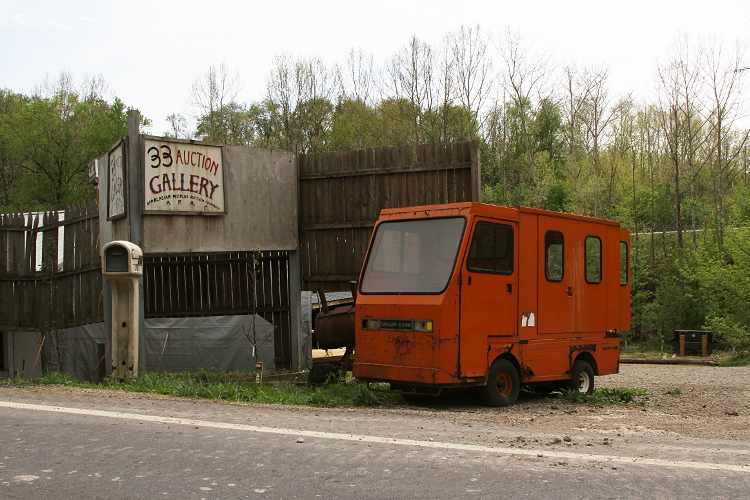 An interesting little old delivery truck. April 2019.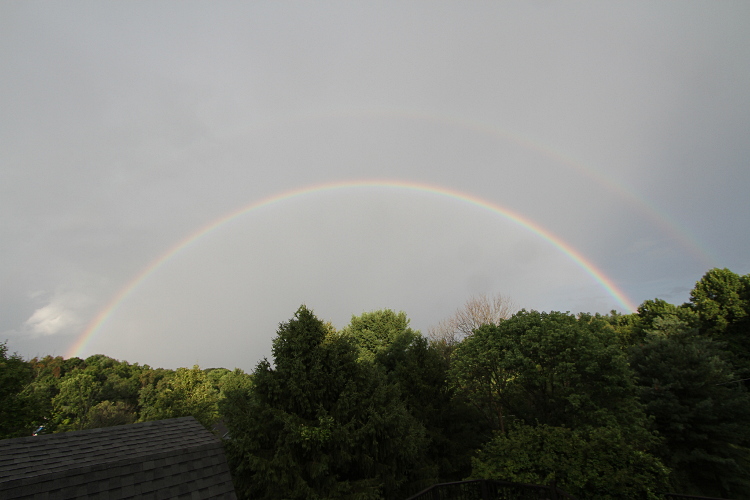 A double rainbow seen from our back deck one evening. The second rainbow is apparently caused by the light reflecting twice inside the raindrop before it gets out. Its colors are in the opposite order. July 2019.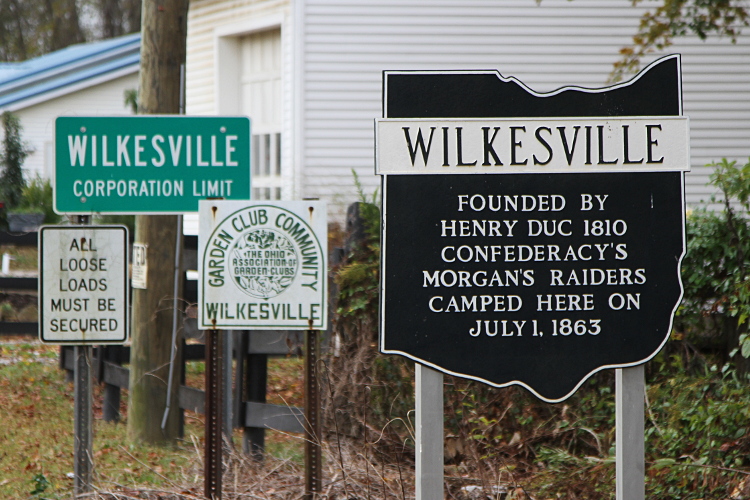 Signage at the entrance to a town. I always find these interesting. October 2019.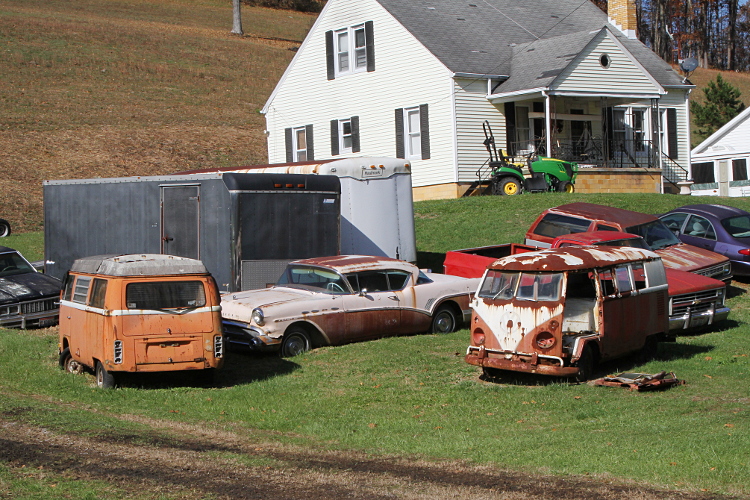 Dilapidated cars in the yard are commonplace in Appalachia. But usually they are not this cool. November 2019.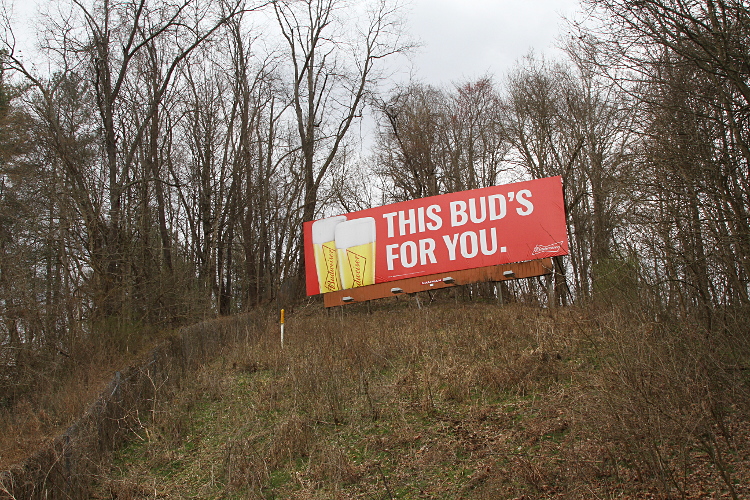 This billboard can be viewed from a spot where you can find Red Salamanders. There is obviously a highway nearby. This photo was taken in March 2019. Something interesting happened to this billboard at the very end of the year.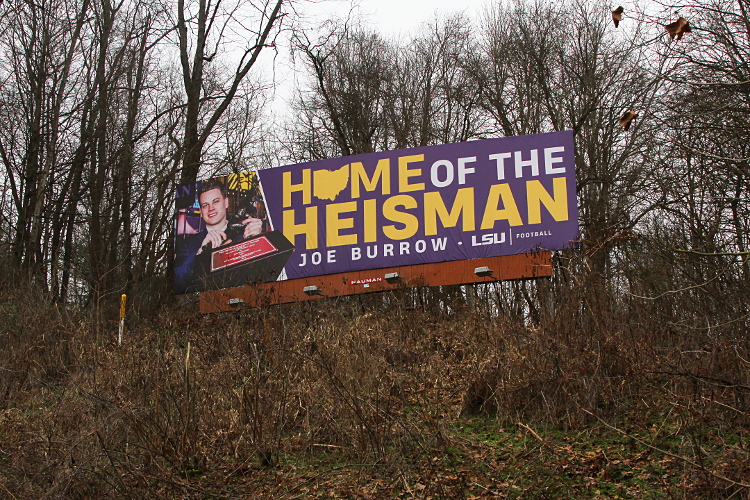 I revisited the site where the Budweiser billboard in late December of 2019. It had transformed into this. If you haven't heard, Joe Burrow was the 2019 Heisman Trophy winner and the quarterback for the 2019 national champion Louisiana State University Tigers. My son Ryan was in the same class as Joe and they went to school together all the way from grade school through Ohio State. Joe Burrow has definitely joined the Waterloo Wonders and Bevo Francis as sports legends of southeast Ohio.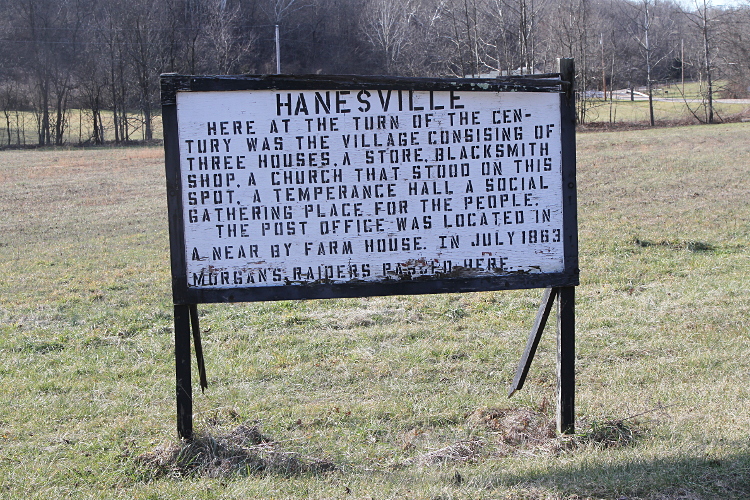 A low-budget historical sign in Meigs County, Ohio. The questionable editing and spray paint stencil style only make it better. January 2020.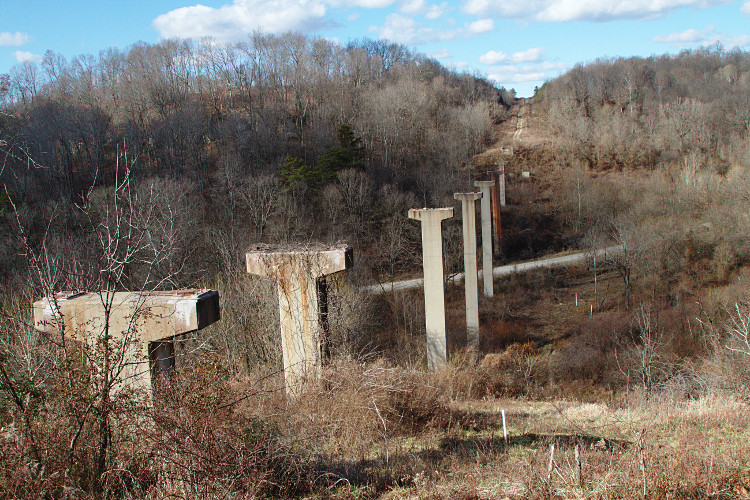 Appalachian Stonehenge? Actually, this is the remains of a massive conveyor belt system that was used to transport coal from the mines in Meigs County to the Gavin Power Plant on the Ohio River in Gallia County. It was an American Electric Power operation that shut down in 2003. The run is 16 miles and is in an almost perfectly straight line. This size of the concrete pillars is very impressive to see in person. January 2020.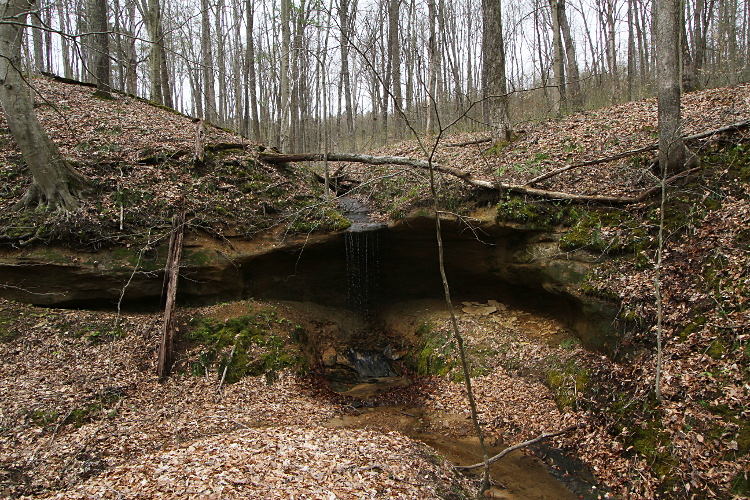 A nice rock shelter. I like how you can see the ridgeline off into the distance. April 2020.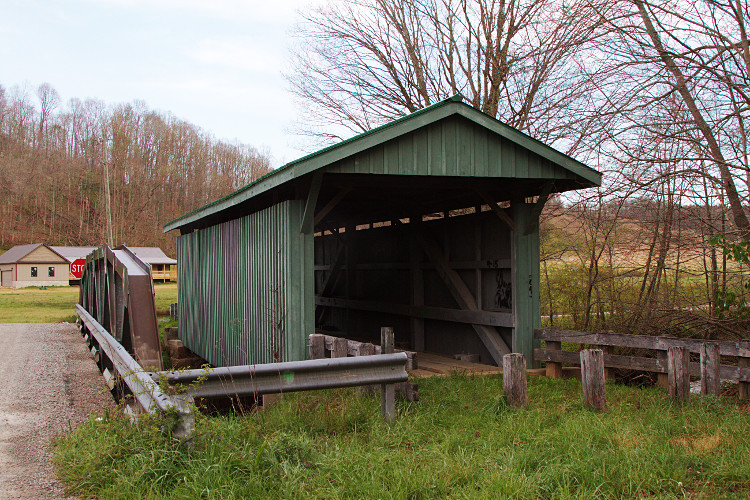 The Mount Olive Covered Bridge over the Middle Fork of Salt Creek in Vinton County, Ohio. April 2020.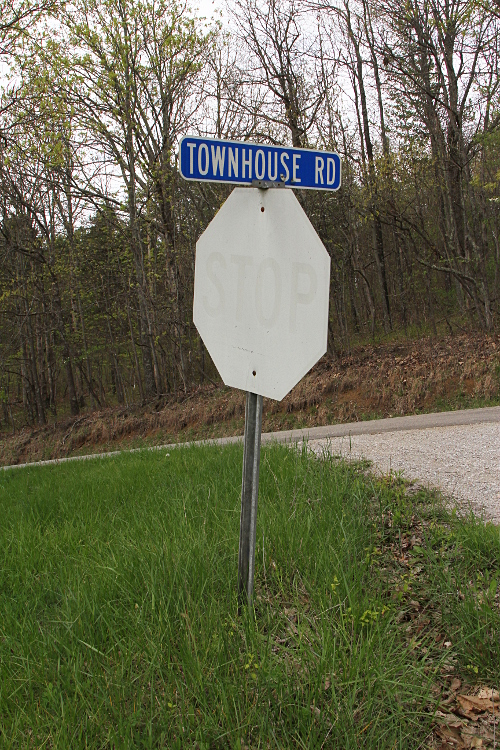 This old stop sign just cracked me up. Definitely not living up to expectations. First of all, it's only 3' tall. And obviously the red paint has completely faded. It's in the middle of nowhere, so it's unlikely to cause issues. April 2020. On the way back from Columbus one day in April 2020, I made a little detour through the Clear Creek valley and the town of Revenge. I wondered what the story behind the name of the town was. So I did some googling. All I could come up with is that in 2009 someone wrote a novel titled Love Finds You In Revenge, Ohio. Sounds like something that would happen "In Soviet Russia..." There are three covered bridges in this area that I wanted to check out. It was pouring rain, but I pressed on. You'll notice some water-on-the-lens issues in the photos below. Here are the bridges.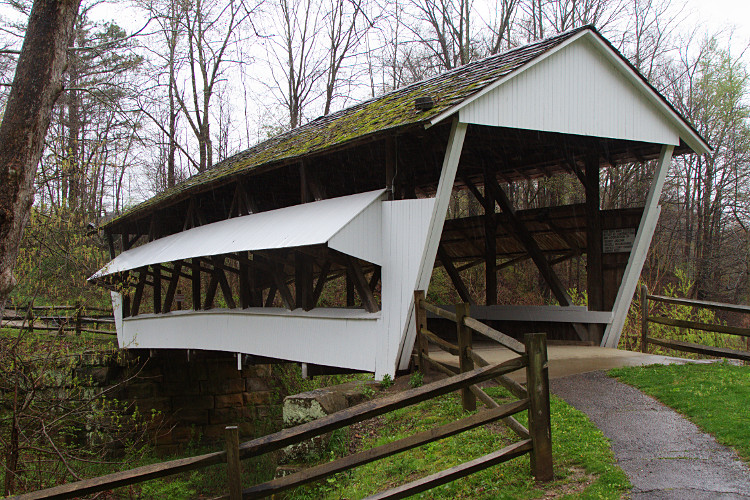 The Mink Hollow Covered Bridge over Arney Run.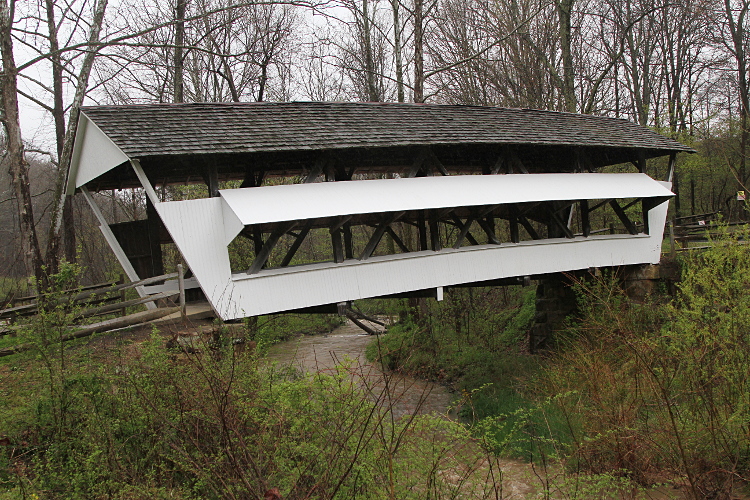 Another look at the Mink Hollow bridge.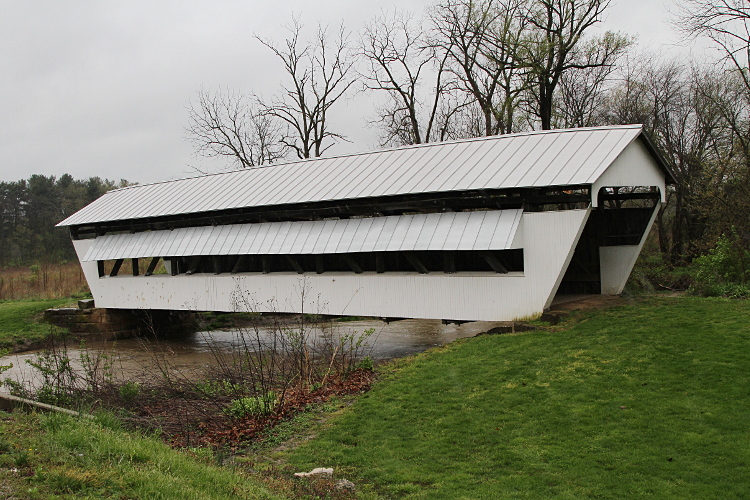 The Hannaway Covered Bridge over Clear Creek.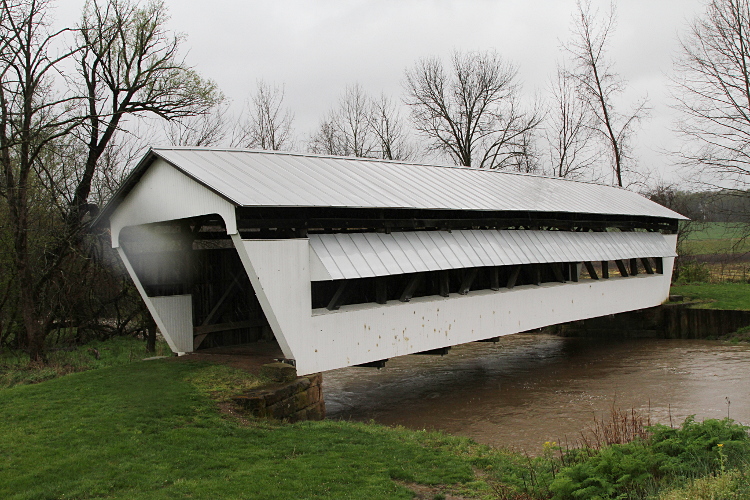 Clear Creek was really roaring on this day.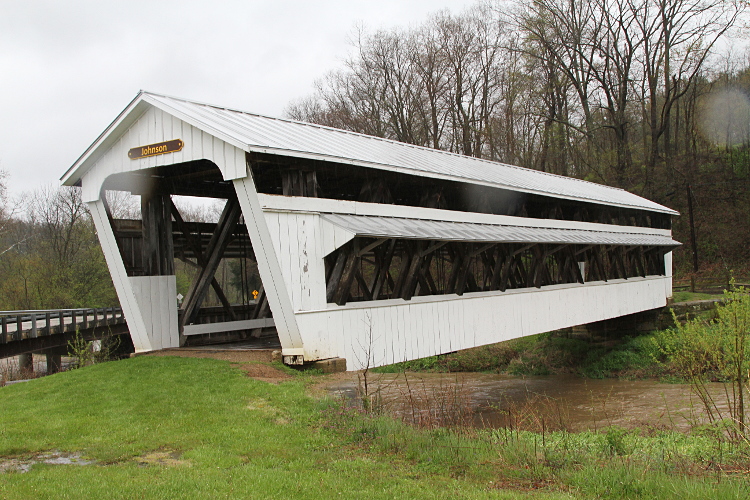 The Johnson Covered Bridge over Clear Creek.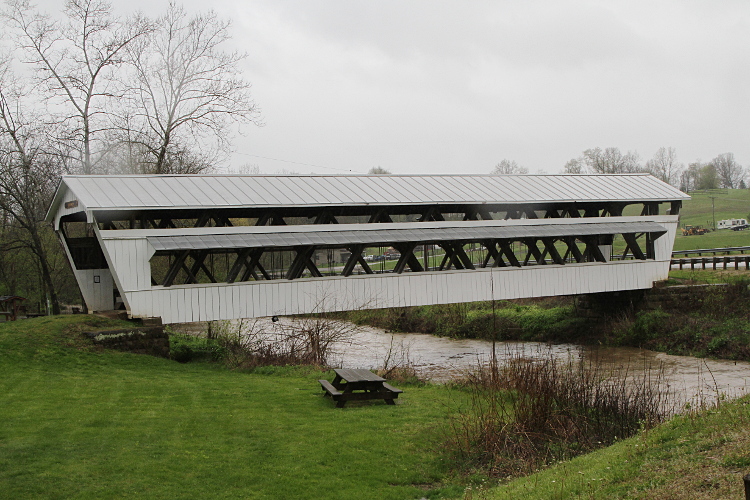 Another look at the Johnson bridge.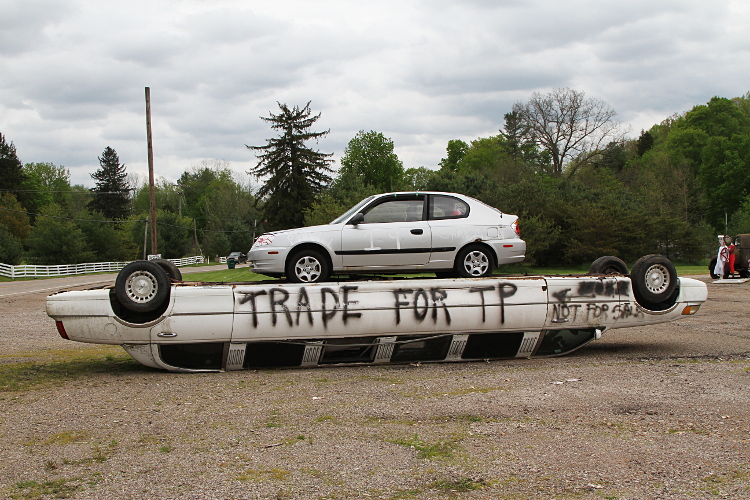 I rather like this individual's sense of humor. The stretch limo is going out in style. May 2020.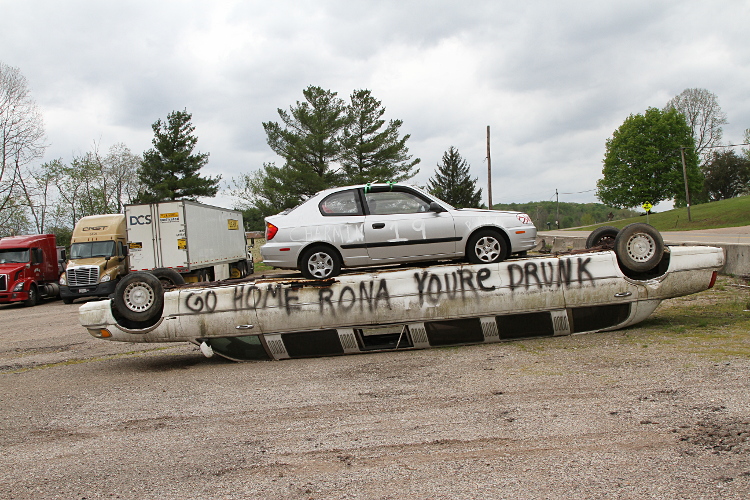 The other side. Little did this guy know that his son met Rona at the party, one thing led to another, and she would become a household fixture...

A nicely restored caboose in Oak Hill, Ohio. It seems that Oak Hill has recently lost its railroad service. Most of the tracks are still in place, but the crossings are marked "exempt". May 2020.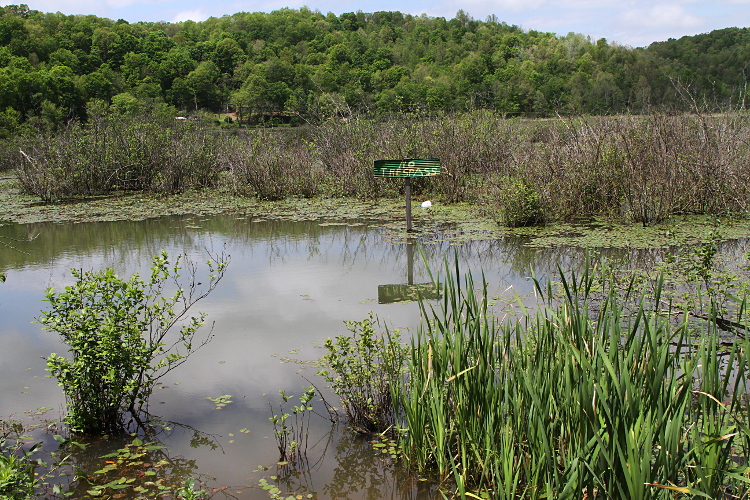 Just in case the moat was insufficient, the sign was added for good measure. May 2020.

An old-school railroad bridge over a creek. I'm guessing around 150 years old. May 2020.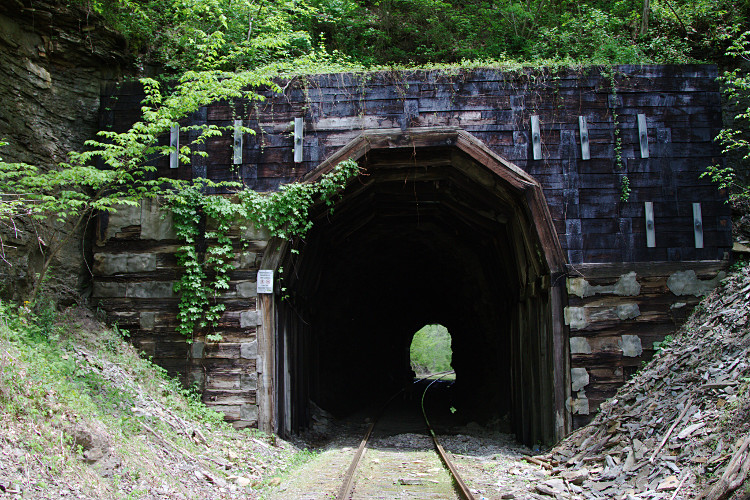 An old railroad tunnel. Once upon a time, it was bustling. Now part of the Ohio South Central Railroad, it sees a couple of small trains per week that service the explosives plant south of Zaleski, Ohio. May 2020.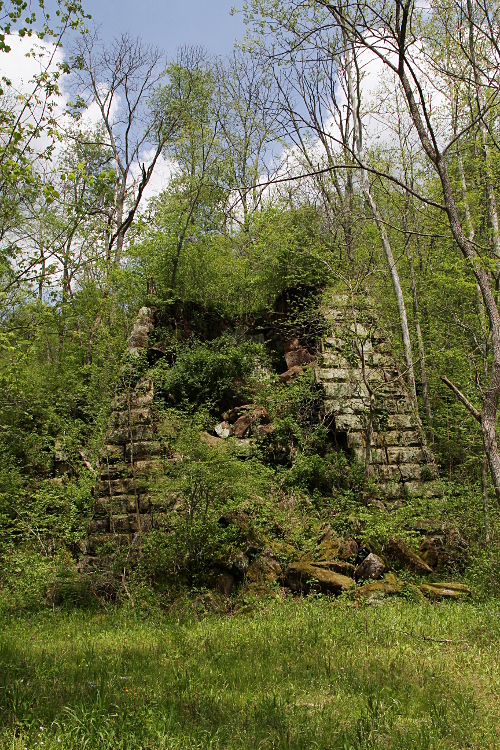 The remains of the Richland Furnace. A reminder of Ohio's iron age, roughly 120-170 years ago. May 2020.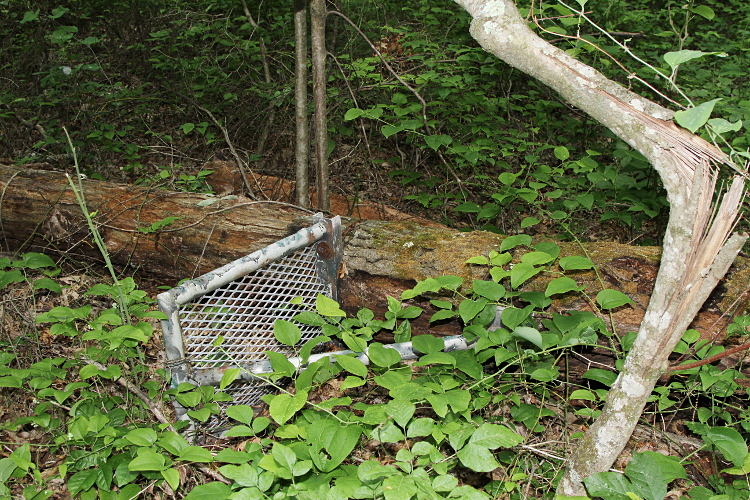 An old-school tree stand that had recently fallen over. As shown above, it was still standing in 2016. Time marches on. June 2020.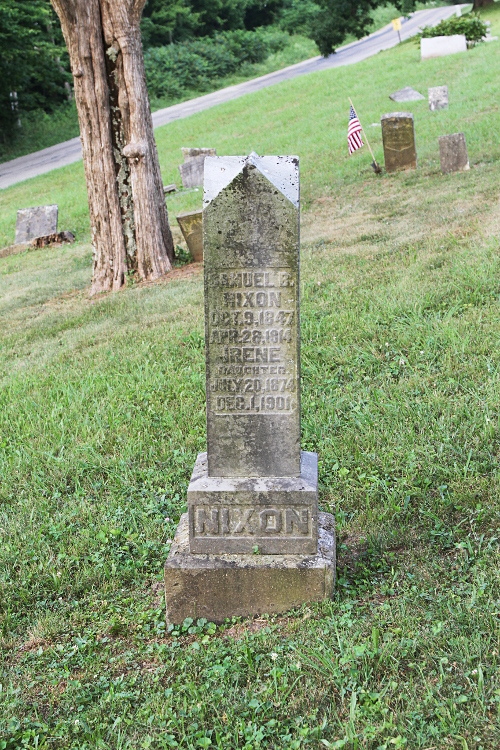 Here's a little known fact. Richard Milhous Nixon's grandfather, Samuel Brady Nixon, lived most of his life in Vinton County, Ohio. He is buried in the Mount Pleasant Cemetery, in Swan Township, along with his daughter Irene. There is conflicting information about where Richard's father Francis was born. Many sources say Richland, Vinton County. This would have been when the Richland Furnace was in operation. That would be most interesting, if true (see the photo and discussion of Richland Furnace above). Anyway, Francis moved to California, where he fathered Richard, and the rest is history... Photographed July 2020.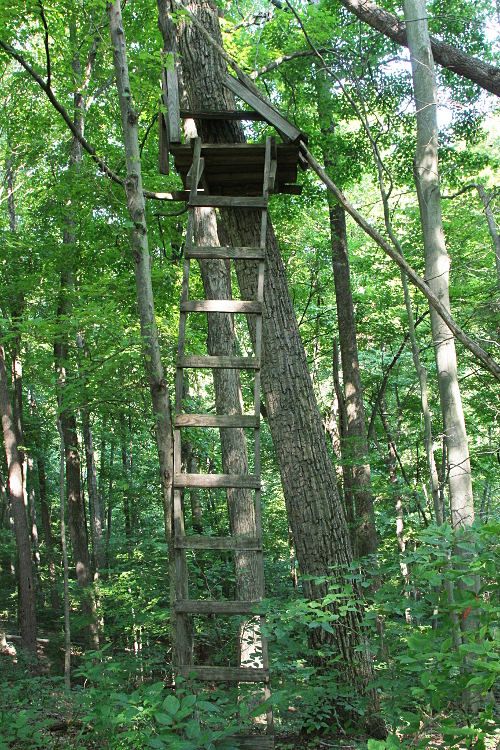 An old tree stand. I guess I have a liking for these old-school tree stands. August 2020.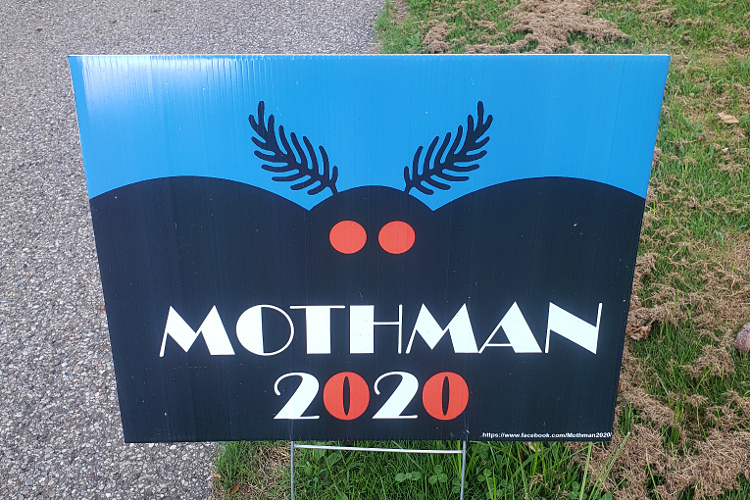 Some political signage in my neighborhood. I appreciate the sentiment. August 2020.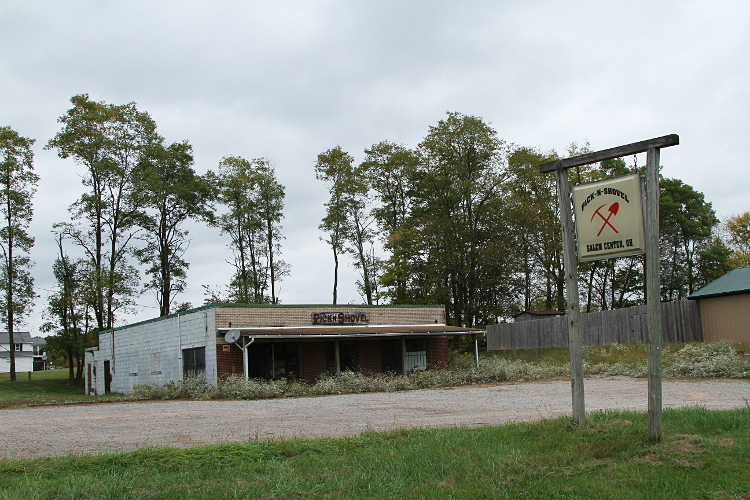 An abandoned market in rural Meigs County, OH. I guess this is what happens when the local coal mine shuts down. October 2020.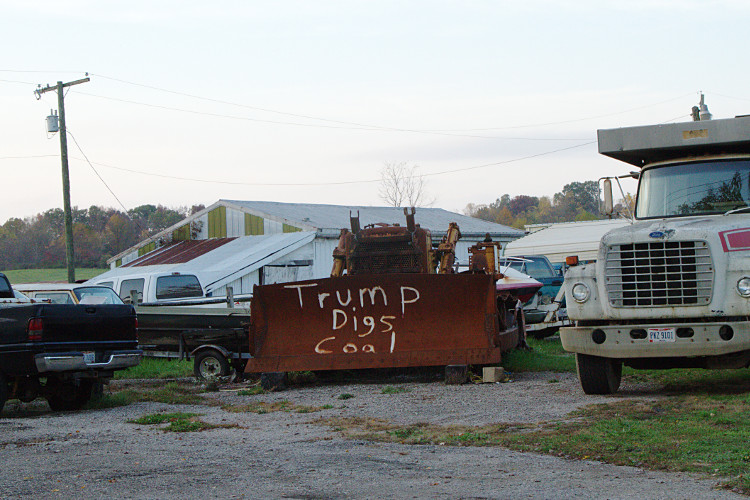 Some local political signage. October 2020.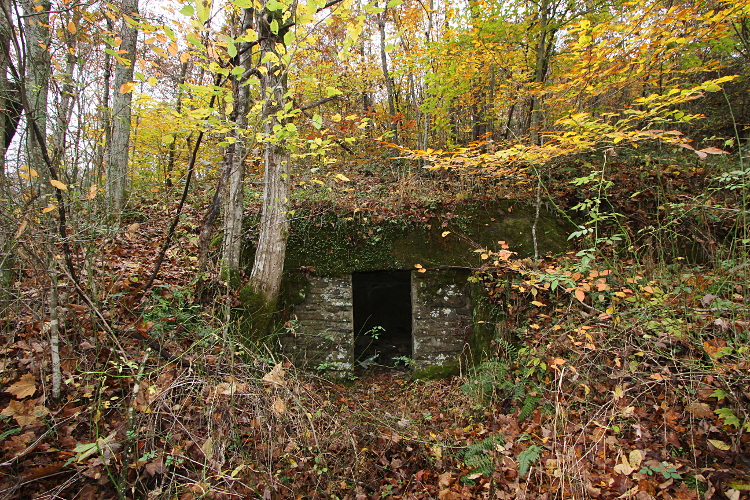 A long-abandoned root cellar located well off the beaten path. Before the advent of refrigeration, the root cellar was very useful for storing food in a cool and humid environment, especially for root vegetables like potatoes. October 2020.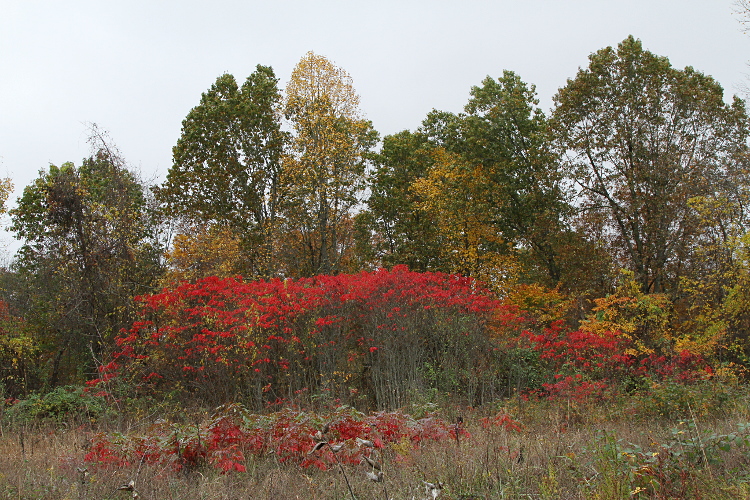 Some fall colors. The small red trees in foreground are sumac and were amazing. October 2020. I really love southeast Ohio.