Heathkit AR-2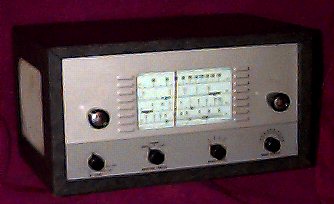 The six tube AR-2 was Heathkit's low-cost transformer-operated general coverage communications receiver in the early 50's. It replaced the AR-1 which was usually pictured without a cabinet (although an all-metal cabinet was offered shortly after the AR-1 introduction in 1949-50). The AR-2 was replaced by the AR-3.
The AR-2 is readily distinguished by four knobs on the bottom of the front panel (The AR-3 has five). Shown in Heath ads in Radio-TV News from September 1953 to August 1955. Priced at $25.50 plus $4.50 for the cabinet.
Try this link for Heath catalog information on the AR-2.
Check out Art Marshall's AR-2 in a Ham Novice set-up circa 1955.

---