National NC-60B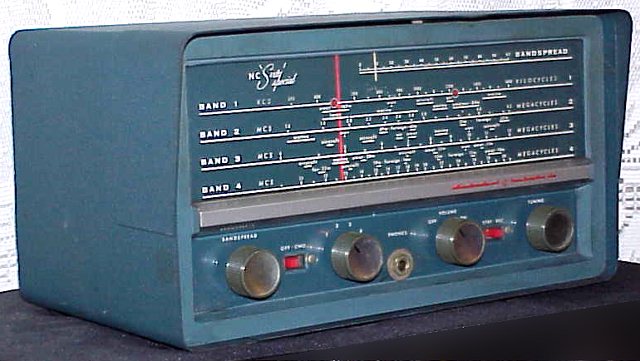 This NC-60B is the blue color version of the National "NC-Sixty Special". The label on the bottom of the cabinet confirms this radio as NC-60B.
Click on this link for pictures of the NC-60 gray-black version, believed to be the version first introduced.
Both the NC-60B and NC-60 versions of the "NC-Sixty Special" are general coverage single conversion 5 tube AC-DC Broadcast and HF receivers covering 550 KHz to 31MHz in 4 bands. Both have BFO, electrical bandspead, standby-receive switch and headphone jack. The tubes in these sets are the 7 pin "All-American Five" series; 12BE6 as oscillator-converter, 12BA6 as IF amp, 12AV6 as detector, AVC, and audio amp, 50C5 as audio output, and 35W4 rectifier. The BFO is regenerative IF.
---