Collins R-390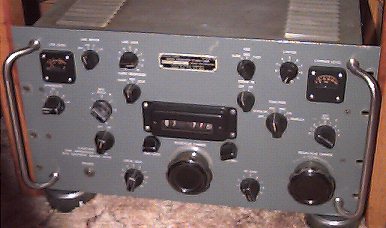 When I located this specimen, it still had the same problems (complete with the written report) that caused it to be honorably discharged from the Army Security Agency, a frozen bandwidth switch and a short in the circuitry which I traced to a piece of shield wire getting too close to a switch contact. I also had to repair a loosened Oldham coupler. It nows works well.
Its accompanying written report is labeled Equipment Inspection and Maintenance Worksheet. The "Organization" on the worksheet is listed as the 184th USASA Opns Co A (the 184th Operations Company "A" was stationed in Rothwesten, Germany). The work sheet notes the TM (technical manual) number as TM 11-5820-357-35 with the TM date of 9 March 62. The date written on the inspection worksheet is 9048 which I assume is the 48th day of 1969. The Type Inspection block is labeled TI. The worksheet notes the unit was "Replaced" and the Condition Code on the on the sheet is listed as "G". I do not know what "TI" and "G" mean. Write me if you know. Also correct the date code if I have misinterpreted that.
Collins designed and built this R-390. The contract date on the nomenclature plate is 1951, serial number 2303. A cost-reduced second generation receiver meeting the same military specifications was also designed by Collins and designated as the R-390A. The R-390A was made under contract by a number of manufacturers. The R-390A uses mechanical filters in place of the LC circuits in the R-390 for the various bandwidths. It differs in appearance by placing the Antenna trim control in the top center, replacing the nomenclature tag. The nomenclature tag is moved down closer to the frequency readout. The R-390 Antenna trim is on the right under the carrier level meter.
The R-390 and R-390A are thought by many to be the best tube-type HF communication receivers ever made.
The R-390 is shown here with a Signal Corps AM-1249/U audio amplifier / speaker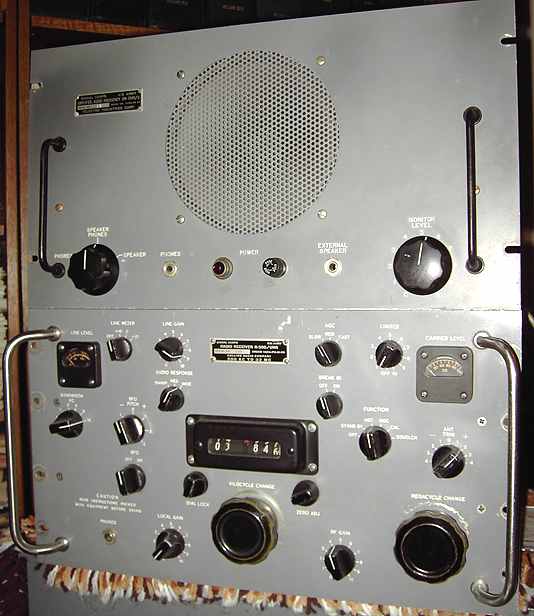 ---