People
Current Lab Members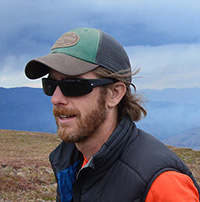 Joseph Groenke (B.S./B.A. University of Michigan)
Laboratory Technician/Coordinator (2017 - present)
Department of Biomedical Sciences, Heritage College of Osteopathic Medicine.
Email
Joe focuses on the technical development of paleontological and neontological data through digital and mechanical preparation, as well as its replication through molding, casting, digital reconstructions, and prototyping. In the O'Connor lab he works principally with fossil material from the Late Cretaceous of Madagascar and Tanzania. He played a logistical coordinating role in several field seasons in Madagascar between 2005 and 2012, and has been a crew member of other work in eastern Africa and Western North America.
Selected Publications:
Krause, D. W., S. Hoffmann, J. R. Wible, E. C. Kirk, J. A. Schultz, W. v. Koenigswald, J. R. Groenke, J. B. Rossie, P. M. O'Connor, E. R. Seiffert, E. R. Dumont, W. L. Holloway, R. R. Rogers, L. J. Rahantarisoa, A. D. Kemp, and H. Andriamialison. First cranial remains of gondwanatherian mammal reveal remarkable mosaicism. Nature 515:512-517 (2014).
O'Connor, P. M., D. W. Krause, N. J. Stevens, J. R. Groenke, R. D. E. MacPhee, and D. Kalthoff. A new mammal from the Upper Cretaceous (Turonian - Campanian) Galula Formation, southwestern Tanzania. Acta Paleontologica Polonica. Accepted January 2019.
.
_____________________________________