E-mail Address courtesy of gmail
Send a message to the keeper of this web page

Rich kb8tad for a personal reply.
Note that my e-mail address has to be changed. This is so that automated spambots cannot use it easily. Replace the left side of the address with my lower case Ham Radio call which is kb8tad
The right half of the address is correct as gmail.com






OR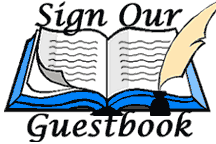 Sign my new guestbook courtesy of smartguestbook.com Don't bother to fill in your e-mail. Only a name and a quick note are the necessary fields. Thanks.
---

Looks like my previous anvilbook-sponsored free guestbook bit the dust without any warning as of June 2012.

---
You may view an older guestbook from QSL.NET by clicking on
View KB8TAD's old QSL.NET Guestbook
---
You can also view the oldest guestbook (Has pop-up ads.)
View KB8TAD's oldest Guestbook
---
©1996-2023
Except as noted, I personally took all these photos. Each photo is individually copyrighted.
Except for those photos that are part of copyrighted magazine articles, individual photos may be used by registered non-profit (501 c3) organizations or by individuals for non-commercial purposes. (Your web page must not be part of or support a business). Attribution is required whenever photos are used.
Include the source on the same page as the picture. Send an e-mail for permission.
All rights reserved.
Updated 11-22-23
Format Gifs courtesy of Jelane.